Many of you may not be familiar with the brand name NuPhy.
NuPhy is an up-and-coming keyboard brand based in Shenzhen, China. NuPhy is an up-and-coming keyboard brand based in Shenzhen, China.
The company mainly releases mechanical keyboards, and its pop appearance makes it a very popular keyboard brand in Japan.
This article will provide an overview of NuPhy.
Read this and you will surely become a fan of NuPhy.
Please watch to the end!
NuPhy is a keyboard brand based in Shenzhen, China
NuPhy is a keyboard manufacturer (brand) located in Shenzhen, China Contry.
Shenzhen is read as "Shenzhen" in Japanese.
In terms of location, the city is located next to Hong Kong and is a designated Special Economic Zone.
Shenzhen is one of China's leading economic cities, characterized by its modern streets lined with skyscrapers, and is one of the largest cities in Asia along with Hong Kong, Shanghai, and Tokyo.
NuPhy's typical product lineup
Here is an introduction to the keyboards, accessories, and other products offered by NuPhy.
In addition to its pop coloring, it is characterized by its extremely elaborate construction.
In addition, the price is very inexpensive for a mechanical keyboard, making it very popular.
NuPhy Air95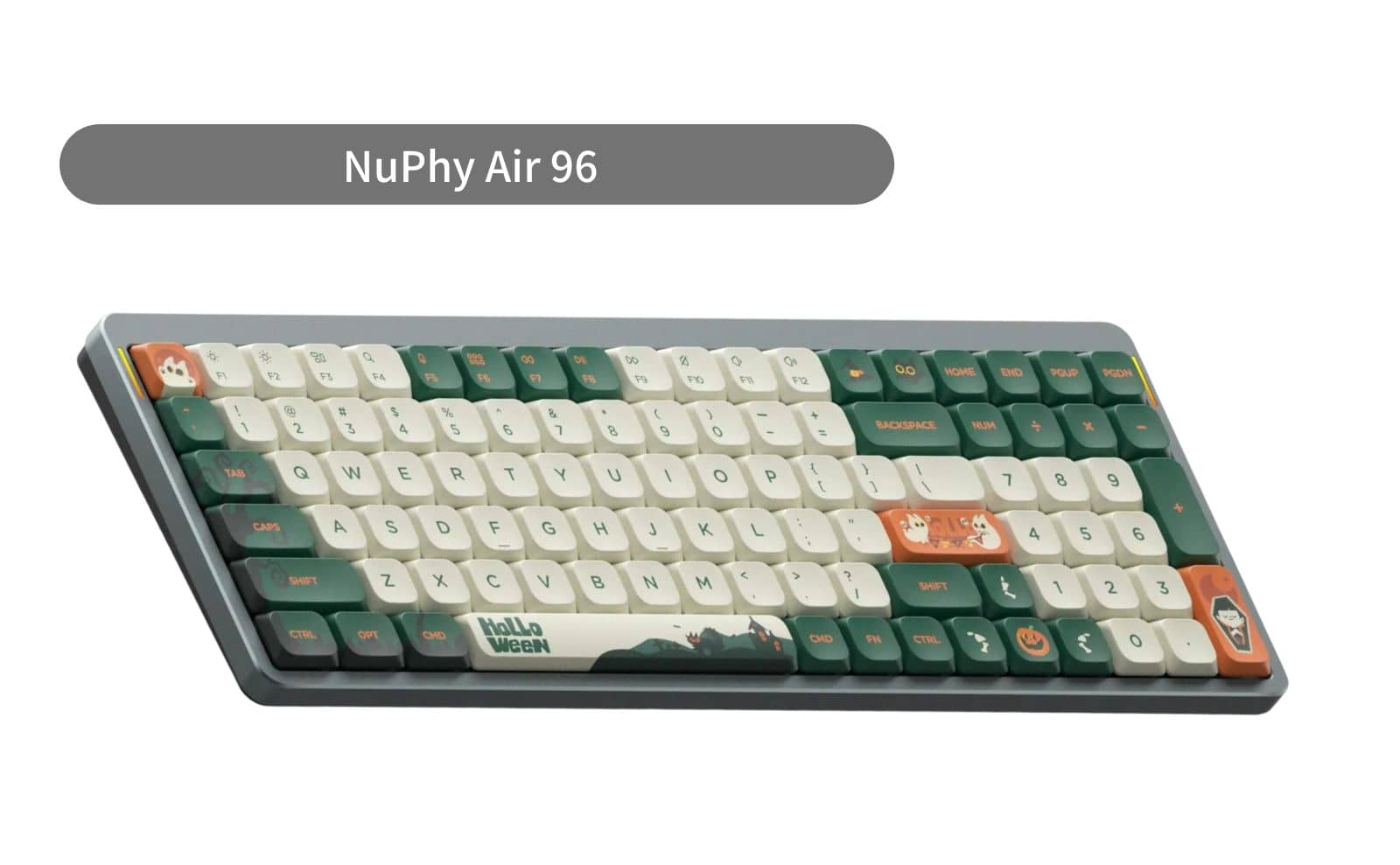 The NuPhy Air96 is a low-profile mechanical keyboard with a 96% layout with 100 keys.
Although not released on the official website, its presence first appeared as an image in the Halloween Keycap Set, a limited edition replacement keycap for the Air75/60.
The release date has not yet been mentioned, but we expect it to be sometime between December 2022 and January 2023.
NuPhy Air 75|Includes a review of the actual device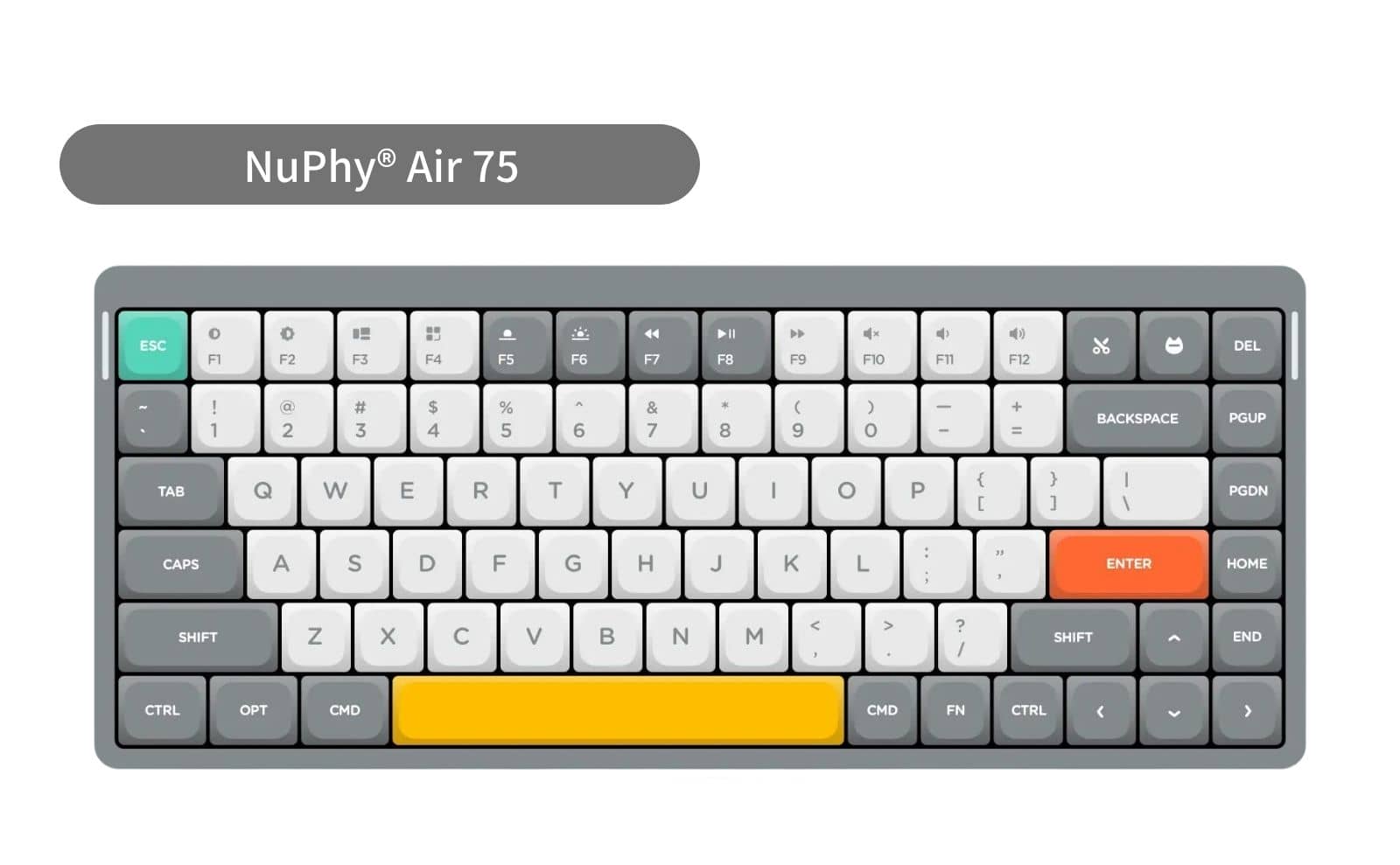 Air75 became an explosive hit when it was introduced on the YouTube channel " Scatter TV Naoshima " and Sanyo Godo Kaisha became the distributor for import in Japan, making it available for domestic purchase.
Hot-swappable
Even today, it shows no sign of waning in popularity, as it is featured on numerous YouTubers.
Unlike most mechanical keyboards, the "low-profile method" is used, making it thin, lightweight, and easy to carry.
The key layout is US layout only.
The keyboard size is "75% compact," as the name suggests, and the most popular layout omits the numeric keypad and function keys, making it easy to use for everyone.
Of course, both Windows /Mac OS are supported.
The Gateron Low Profile Mechanical Switches are used for the keyswitches, which are selectable from three types: "Blue Axis" for clicky sound, "Brown Axis" for good tactile feedback, and "Red Axis" for linear and quiet pressing comfort.
sound sample
The manual includes instructions for setting up the device in Japanese, so there is no need to worry about Bluetooth pairing or entering function keys.
In addition, Air75, like NuPhy's Nutype F1 keyboard product, is sold by a "domestic distributor" and has obtained "technical compliance (technical standards compliance certification for specified radio equipment)," which is a major advantage.
In Japan, it is illegal to use a wireless device "even if it has wireless communication functions" unless the product has obtained a "technical standards conformity certification" as specified by the Ministry of Internal Affairs and Communications.
In this respect, Air75 is the only "NuPhy keyboard with wireless connectivity" in Japan.
We also sell a special version of Air75 in collaboration with AYANEO, an electronics manufacturer in Hong Kong, which has a nice keycap coloring that is different from the official version.
Replacement keycaps are also available, so you can change them out depending on your mood.
Note that the Air75 can also be used on top of a laptop computer keyboard.
The following notebooks will not interfere even without a keyboard bridge because the rubber on the bottom fits perfectly into the keyboard groove ( AirFeet™ ).
NuPhy Air 60|Includes a review of the actual device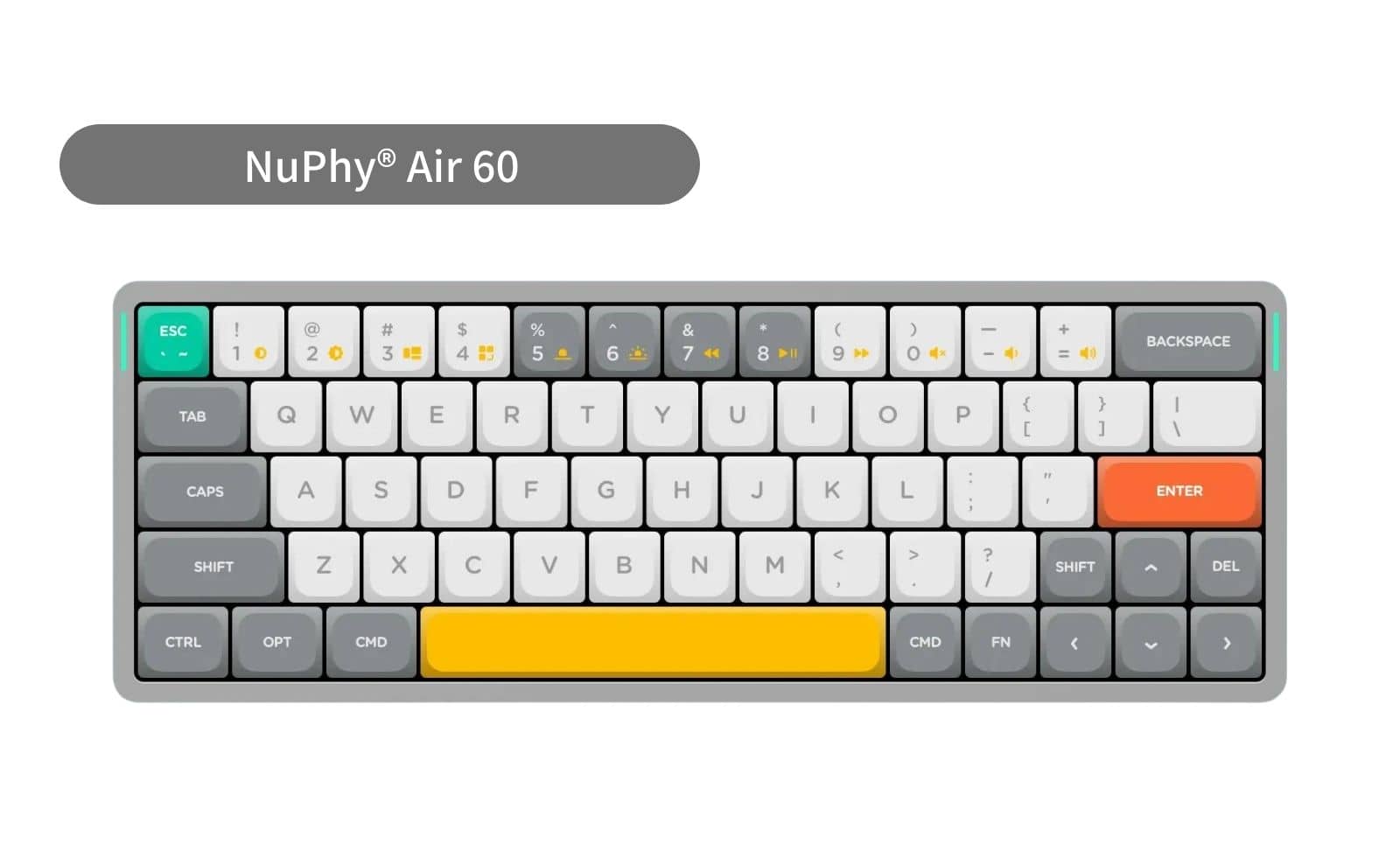 The Air60 is a more compact version of the Air75.
Hot-swappable
Positioned as the successor to the NuType F1, it is a "60% compact" size keyboard that eliminates function keys.
In most cases, the directional keys are pressed simultaneously with the Fn key on many 60% keyboards, including the HHKB (US layout), but the Air60 is firmly independent and easy to use.
As with the Air75, there are three types of axes to choose from: blue, brown, and red.
sound sample
Weighing in at around 450g, 100g lighter than the Air75, this keyboard is perfect for those who are thinking mainly of carrying it around.
Air60 is designed to be used in the so-called "takunishi style".
When typing in this style with a tall normal-profile keyboard, the wrist must be forced to bend back, which not only makes typing difficult but also increases the risk of tendonitis.
In addition, the disadvantage of installing a mechanical keyboard on top of a keyboard is that it requires the installation of a keyboard bridge, which simply increases the amount of luggage.
In this respect, the low profile of the Air60 means that typing in this style does not cause wrist pain.
In addition, it is designed to fit perfectly into the "keyboard groove" of many Windows notebooks as well as Macs, so it can be typed on top of existing keyboards without a keyboard bridge.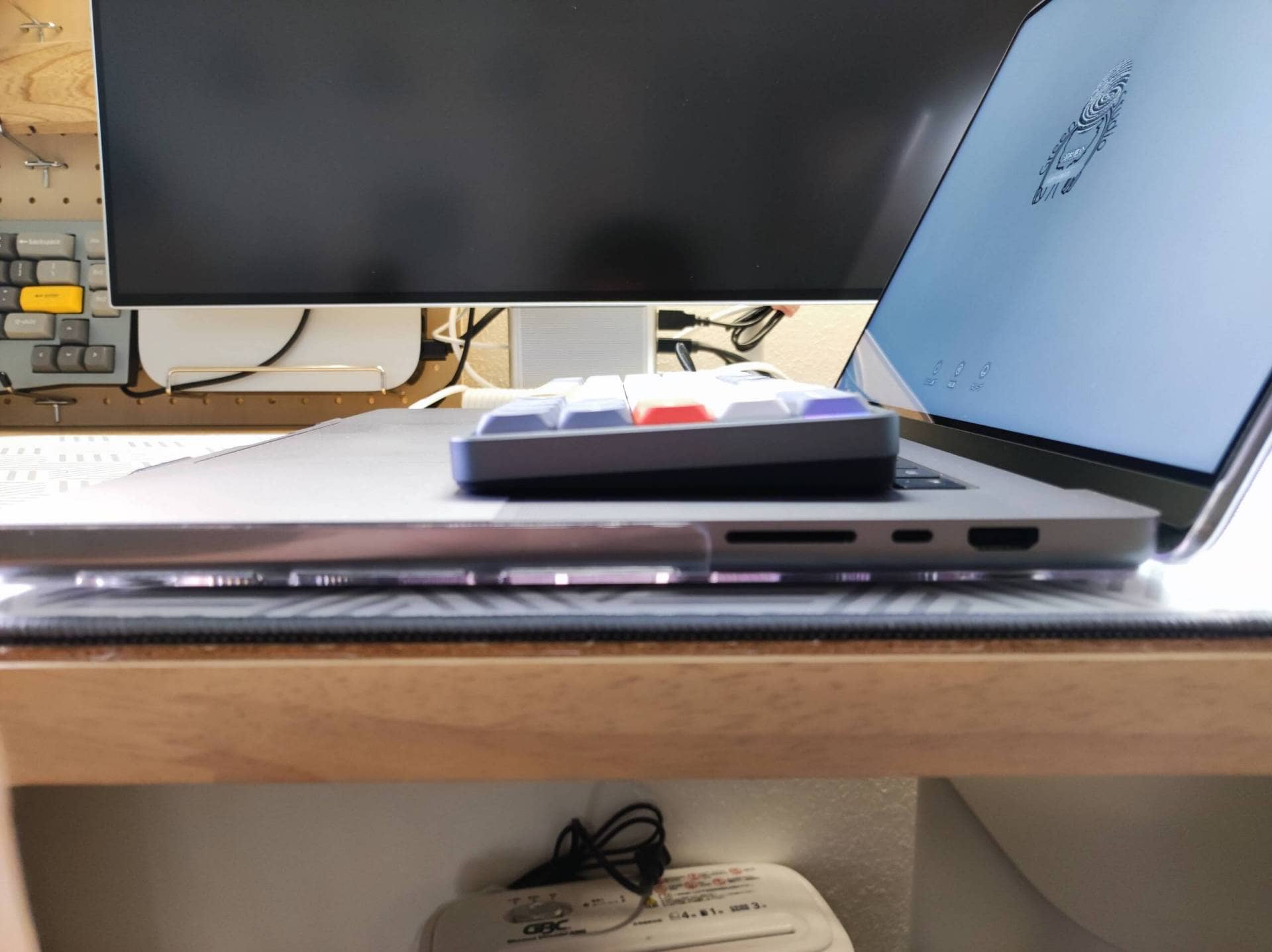 The NuType F1 had a fatal flaw in that it could not be placed on a keyboard with a different layout because of interference (only the NuType F1 with JIS layout can be placed on a Mac with JIS layout), but this has all been eliminated in the Air60.
Bluetooth connectivity is not available for use in Japan, but the USB Type-C port is located on the side of the keyboard and can be connected to a computer's USB port over the shortest possible distance with the included cable.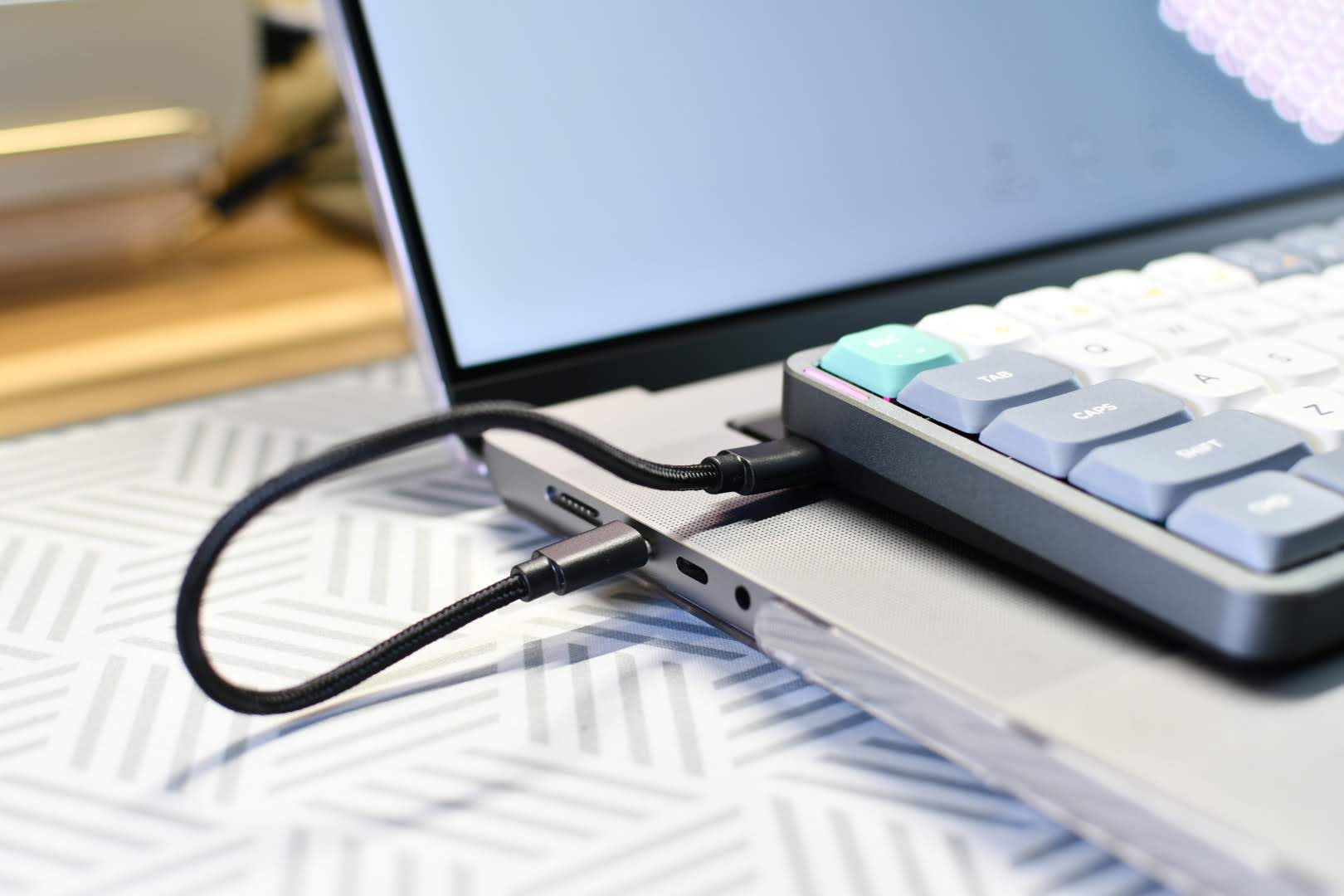 Of course, as with the Air75, replacement keycaps are also available, so you can replace them as you wish.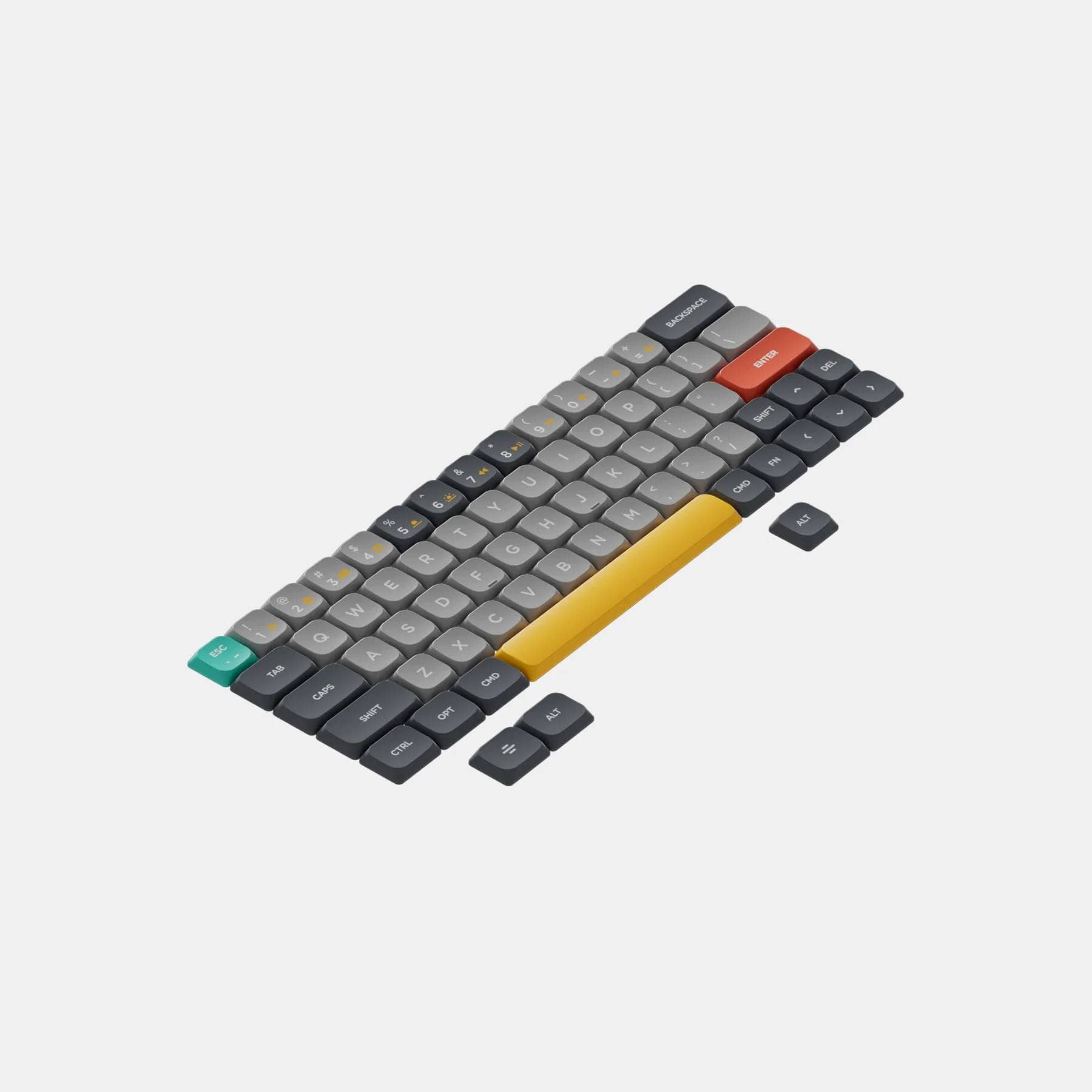 NuPhy Halo 96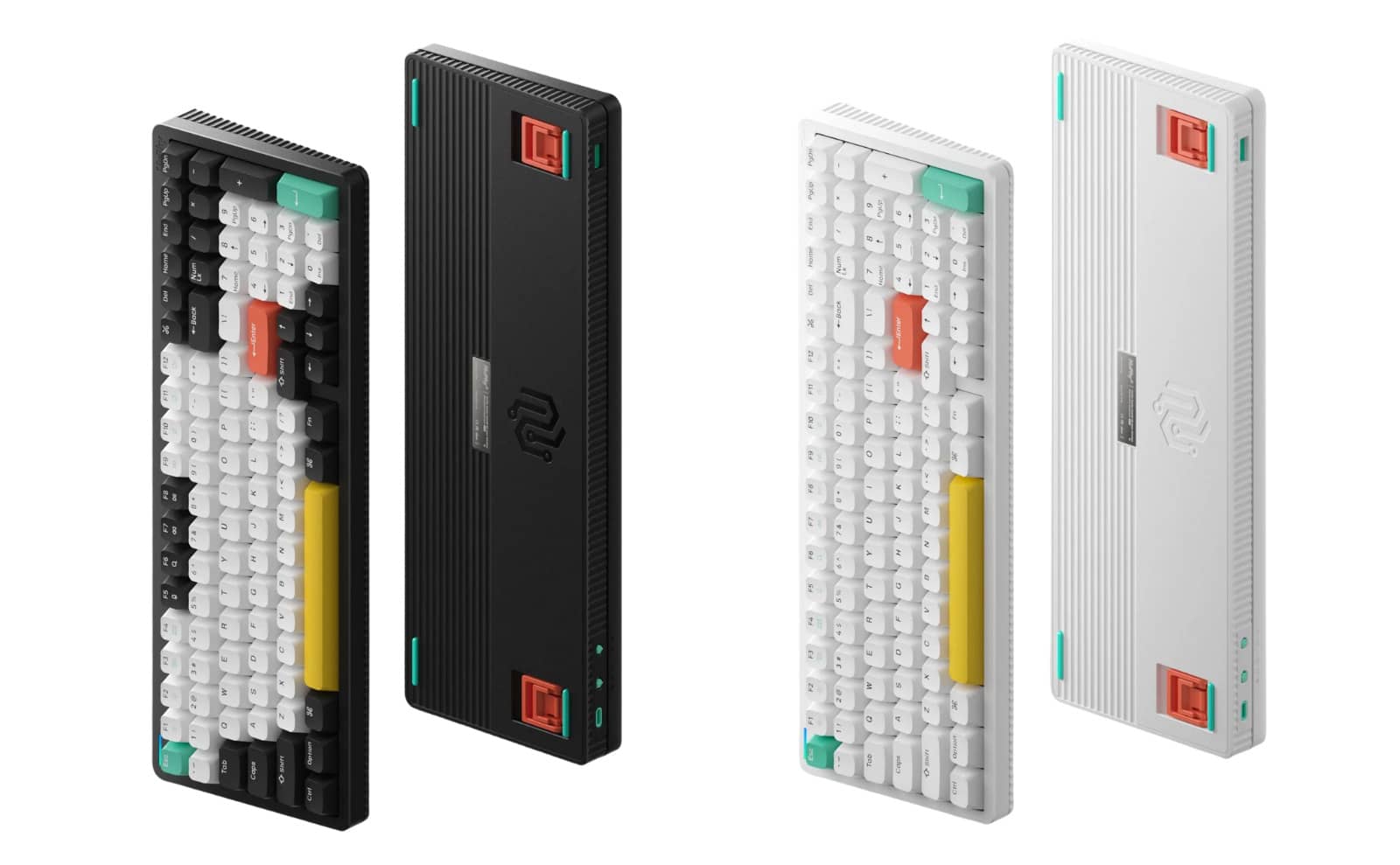 The NuPhy Halo 96 is a 96% layout mechanical keyboard with 99 keys scheduled for release on November 29, 2022.
Its existence was announced on the official blog when Halo 75 was released, and its release date was announced on the official NuPhy Twitter page on November 26.
😎We will release Halo96 in 3 days⏳️⁠
⁠
⁠📅Mark your calendar (Nov. 29th)⁠⁠ to grab the pre-order offer😉. pic.twitter.com/xSXQTVHn4N

— NuPhy (@nuphystudio) November 26, 2022
当サイトでは実機入手後にレビューしたいと思います。
NuPhy Halo 75|75% layout mechanical keyboard
This mechanical keyboard was released on November 8, 2022.
The key layout is 75%, with an additional row of function keys on the top row compared to the Halo65.
In terms of design, it follows Halo 65, which was introduced as a "wide version for the general public" position.
After all, users are generally more likely to use the function keys more frequently, so the Halo 75 is definitely the easier choice.
NuPhy's enthusiasm for this appearance is also evident in the addition of three new mechanical key switches.
Halo 65ではBBKを選択したため、Halo75では、新たに仲間入りした「Rose Glacier」をチョイスしました。
タクタイルスイッチとしては非常に似通った性質を持つ2つのスイッチですが、BBKの方がやや甲高い打鍵音、Rose Glacierの方がやや低音が際立つ打鍵音となっています。
Rose Glacierの方が若干ではありますが、押し込んだ際の脱力するポイントが遅くなっているため、長時間のタイピングの疲労度としてはBBKの方が少ない印象でした。
本体の反響などを加味した打鍵音そのものについては、Halo65のそれと大きく大差はありません。
相変わらずデッドな音で最高のタイピング体験を提供してくれます。
また、今回のモデルから、静音仕様のスペースバー「Ghostbar」が標準装備となりました。
NuPhy Halo 65
The Halo65 is NuPhy's first "Normal Profile" mechanical keyboard since the TES68.
Hot-swappable
The keyboard size is "65% compact" with the function keys omitted, and the directional keys are independent to minimize mis-presses.
Of note is the use of multiple layers of silicone pads.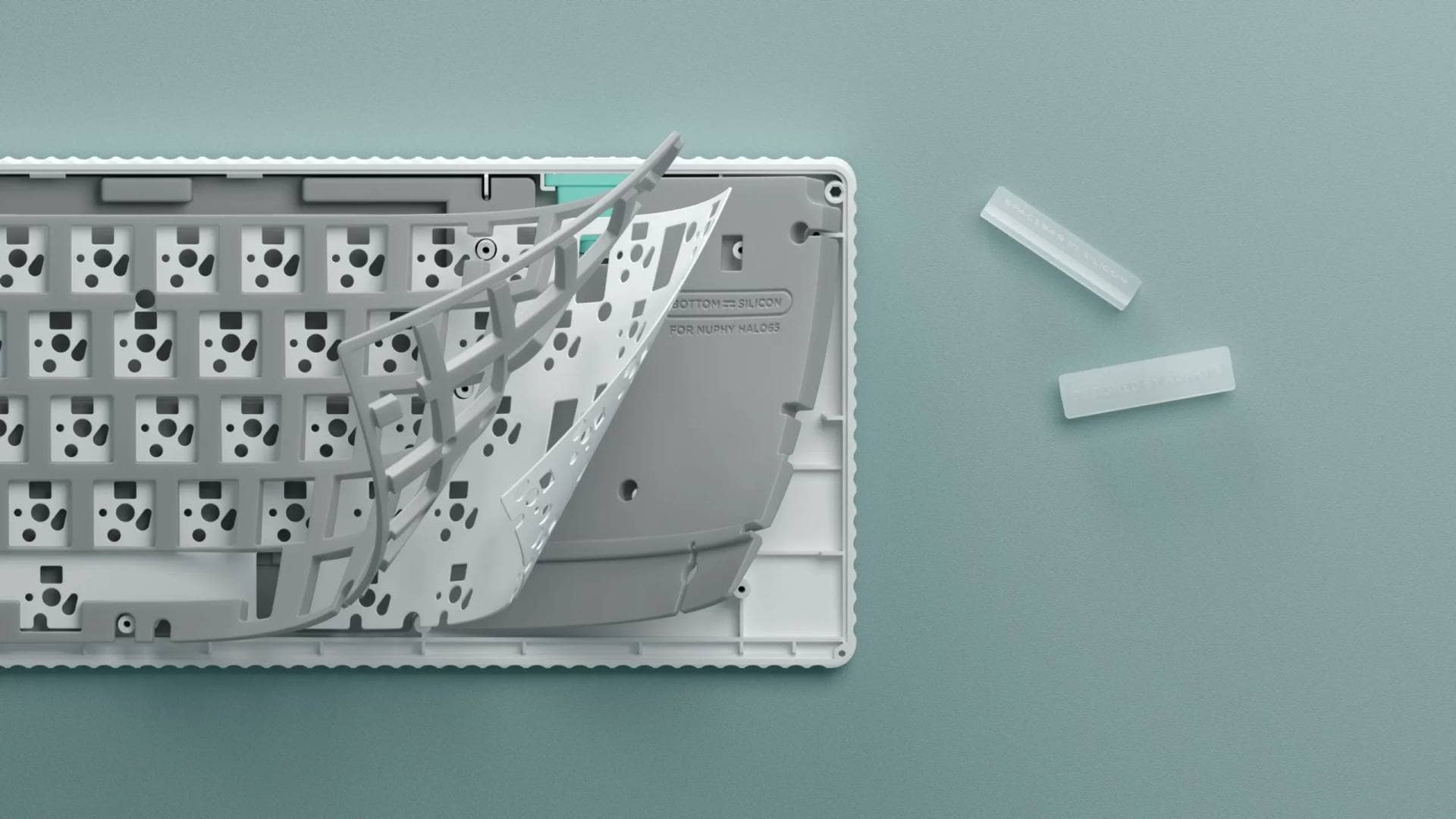 This allows for a "very tight" typing sound with little spread and reverberation, even though the lightweight metal material keeps the weight down to about 1000g.
In particular, the "kotokoto" type sound is really addictive, especially with Gateron's new short-stroke tactile switches, " Baby Kangaroo Switches.
In addition, on October 27, 2022, the company announced an upgrade to the space bar, replacing it with a quieter " Ghostbar," further refining its appeal.
In addition to the Baby Kangaroo mentioned above, you can choose from the red, blue, and brown axes of the lubricated Gateron G Pro.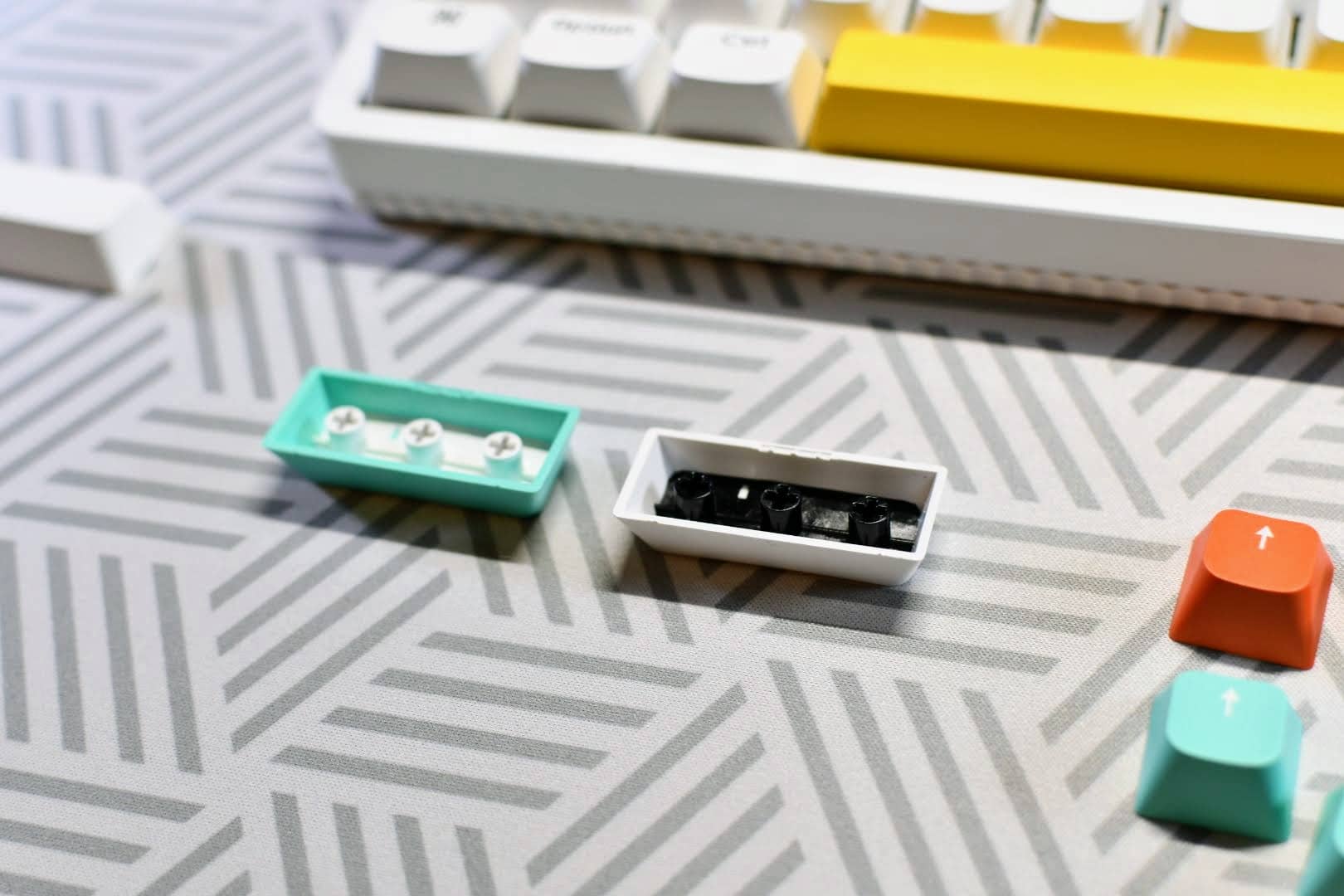 It is also highly customizable, and can be made into an all-white keyboard by combining the included keycaps, or a matte black, austere coloring can be achieved by purchasing keycaps separately.
Combined with the two-tone palm rest (sold separately), you will have a very stylish work environment.
NuPhy NuType F1|Review based on actual equipment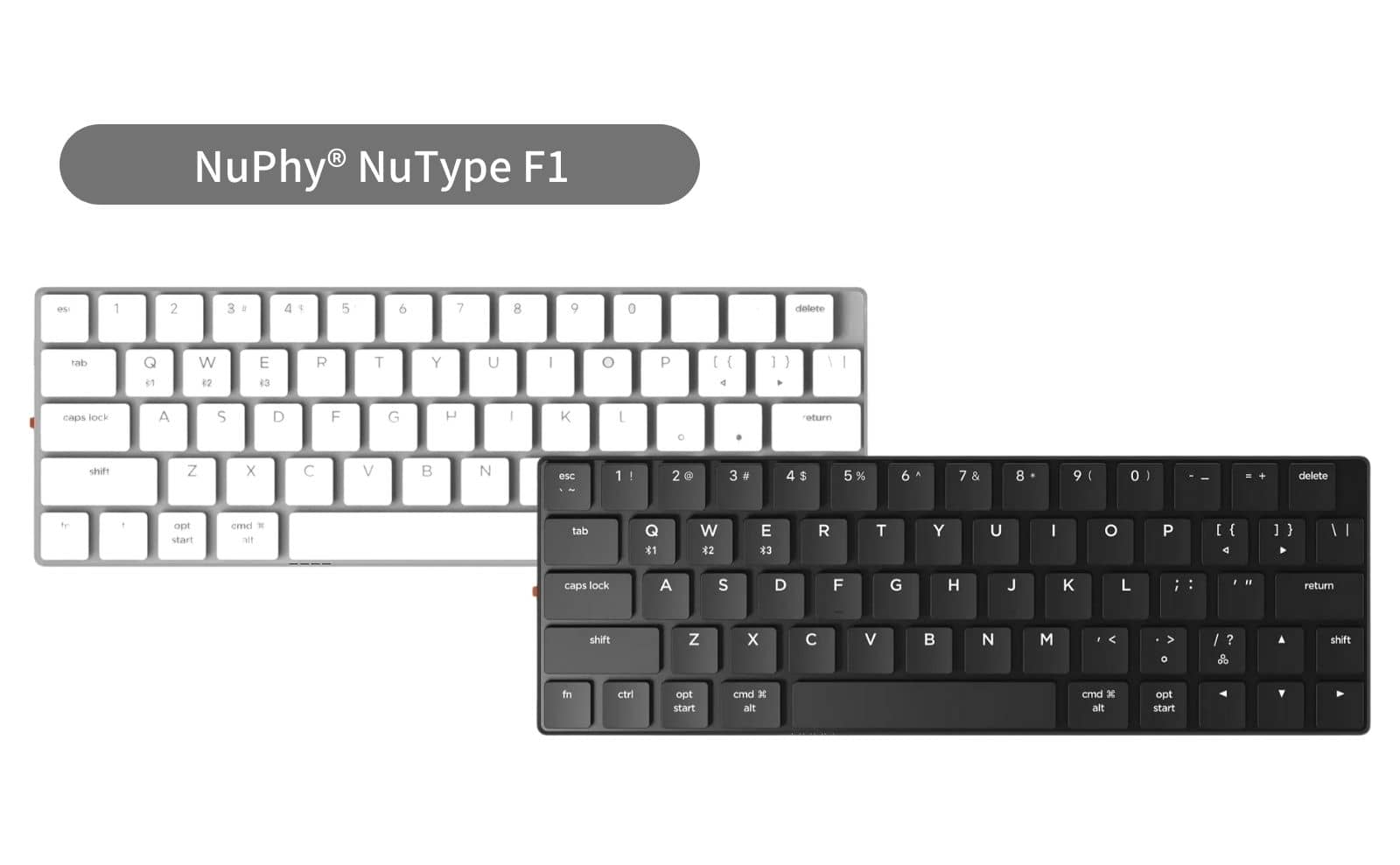 Like the Air75, the NuType F1 is imported by Sanyo Godo Kaisha, a distributor in Japan, and can be purchased from Amazon and other stores.
It has a thin and compact design, and like the Air60, it is basically designed to be used "installed on the keyboard of a laptop computer, i.e., in a takunishi style".
Thus, it does not interfere with existing laptop computer keyboards without a keyboard bridge.
It is the only NuPhy product that offers a choice of Japanese-language layout, making it highly popular among those who prefer a Japanese-language layout.
Like the Air60, it has the advantage of a 60% layout with no function keys, yet it is easy to operate due to its independent directional keys.
On the other hand, if you do not choose a keyboard with a layout that matches the key layout of the laptop computer you are using, interference will occur. Considering that most laptop computer keyboards distributed in Japan have Japanese layouts, the Japanese layout model is virtually the only choice.
In addition, Amazon reviews are notable for reports of malfunctions and problems.
As for the axes, there are three types to choose from, but they are not hot-swappable and use proprietary switches, so they cannot be replaced in the event of a problem such as "not being able to press a certain key" as described in the above review.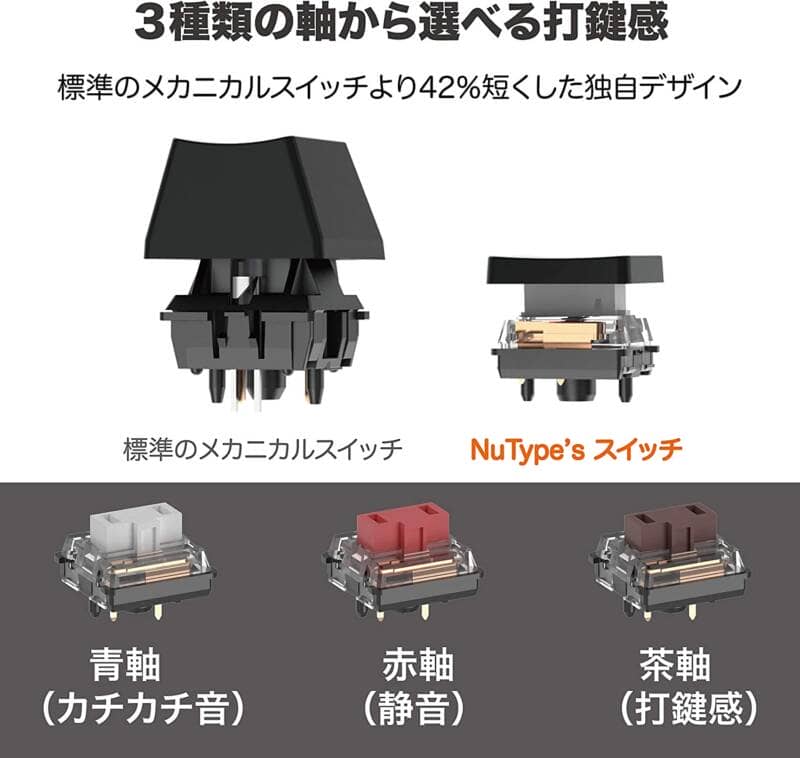 Since I actually purchased the product, I checked its use.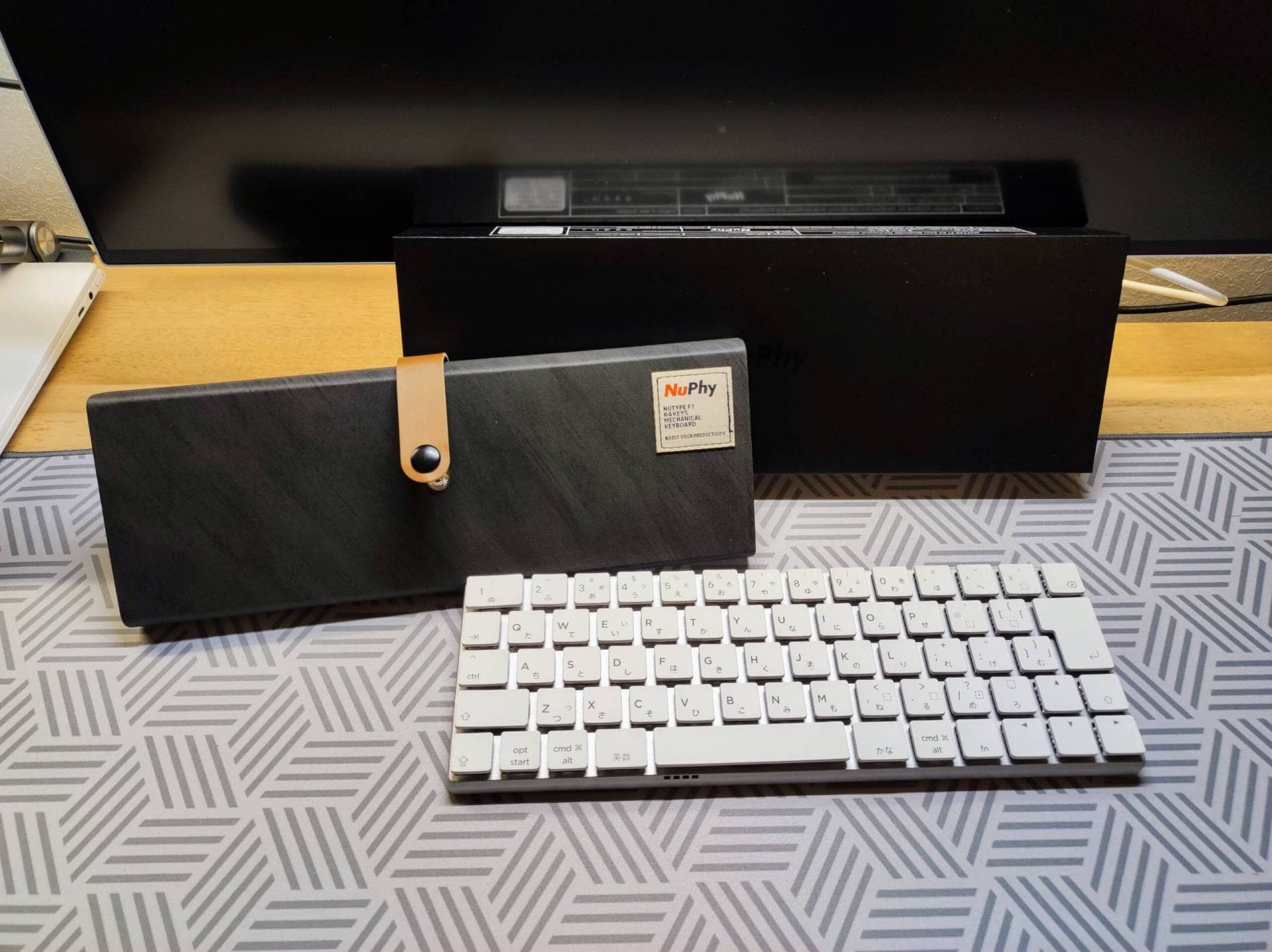 The key pitch is slightly wider at 19.5 mm, which also meant that we had to spread our hands somewhat wider.
As for the key feel, it is still quite different from the Gateron low-profile switches used in the Air75/60, and the "return" after hitting is slow, and personally, the feeling that the keys do not follow the fingers is very noticeable.
Although there were no problems as mentioned in the reviews, there were some inferiorities in key feel, so we recommend the successor, Air60, if you are thinking of using it in a priest style.
NuPhy Key Cap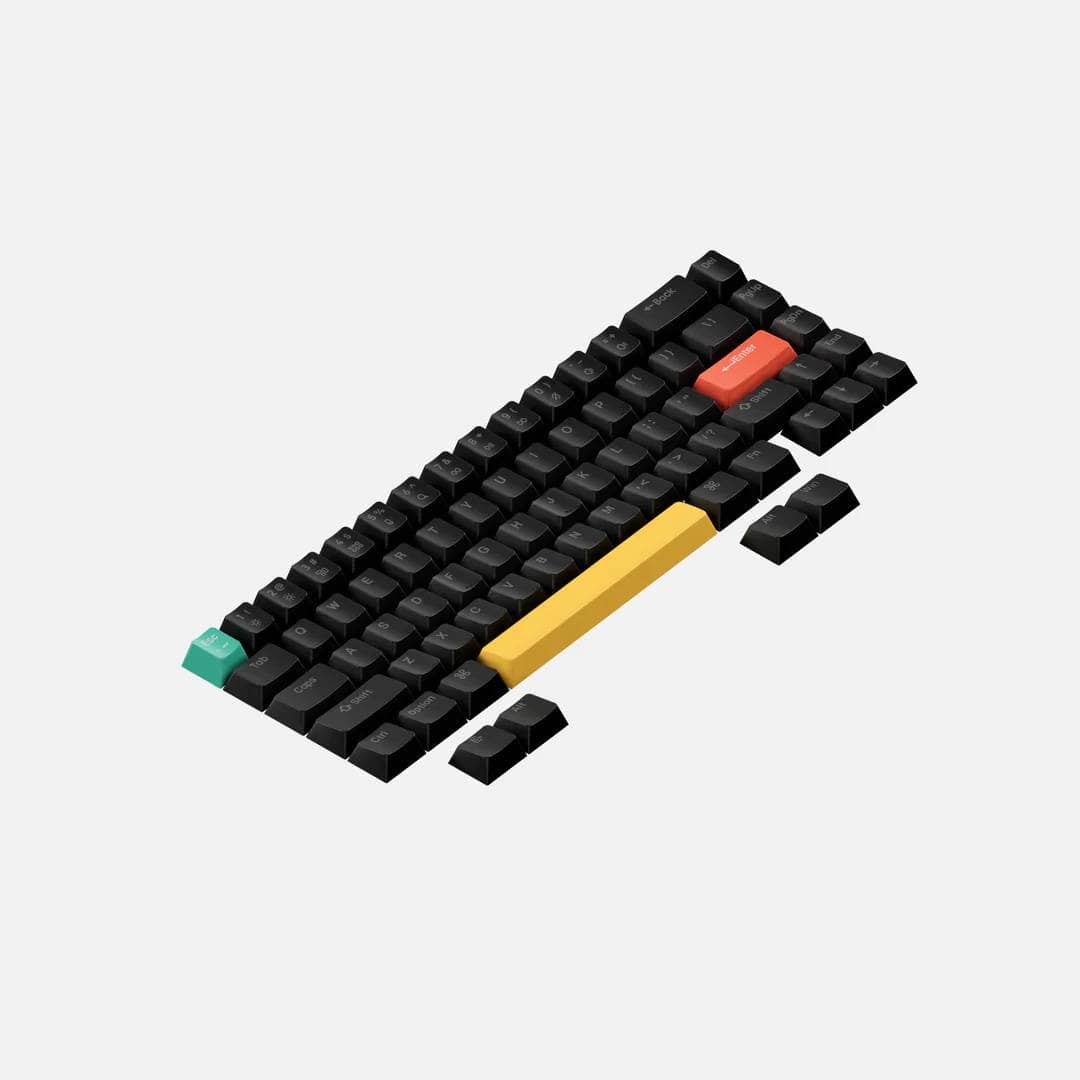 Keycaps can also be purchased separately at the official NuPhy store.
Excluding limited editions, the product lineup currently available for purchase is as follows
The keycaps for Halo 75, shown in this content, will also be part of this lineup after December 8.
In addition Key caps for a limited time The following three types are now available as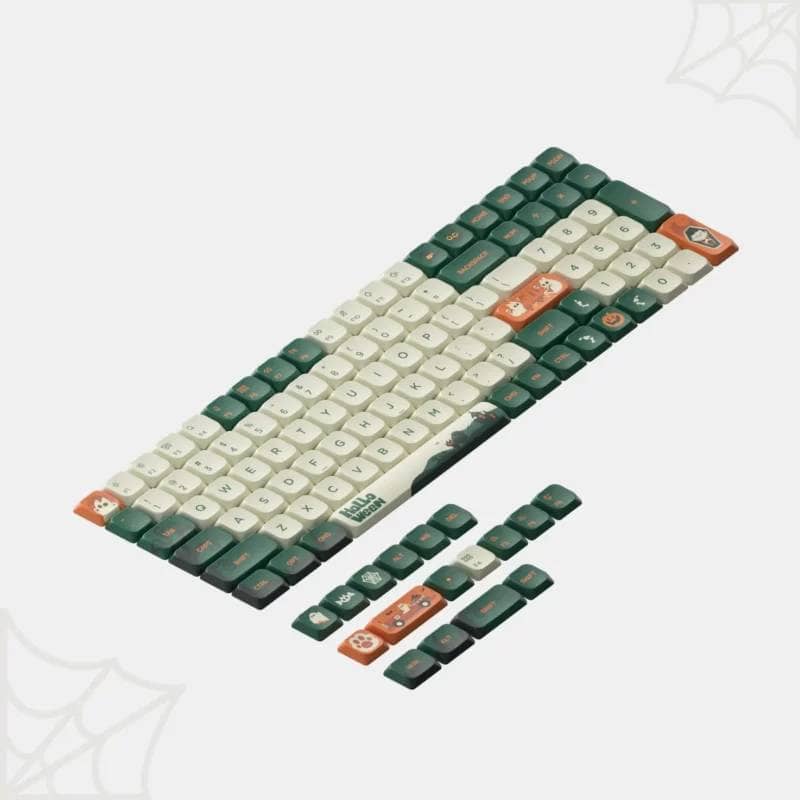 Especially when it comes to Halloween and Christmas limited edition models, they are only available for a really short period of time, so if you want to buy one, do so as soon as possible.
Although nominally a "NuPhy-specific keycap," it is a keycap compatible with the Cherry MX axis, so it can be replaced on any keyboard that uses Cherry MX standard key switches, such as Keychron.
This will be especially useful since there are very few options for low-profile type replacement keycaps.
Also available for Keychron K3 /K7 US array models.
Please note, however, that not all keycaps are interchangeable, as they are only available for US layout models.
In the meantime, it can be used for Logitech MX Mechanical Mini for Mac, etc., but the position of the keyswitch hole for the space bar is slightly different, so it could not be used.
In addition, the regular MX MECHANICAL MINI is a Japanese layout model, and since the Japanese layout model and the English layout model have different keytop designations, it may be difficult to stay with the Japanese layout model.
Other NuPhy products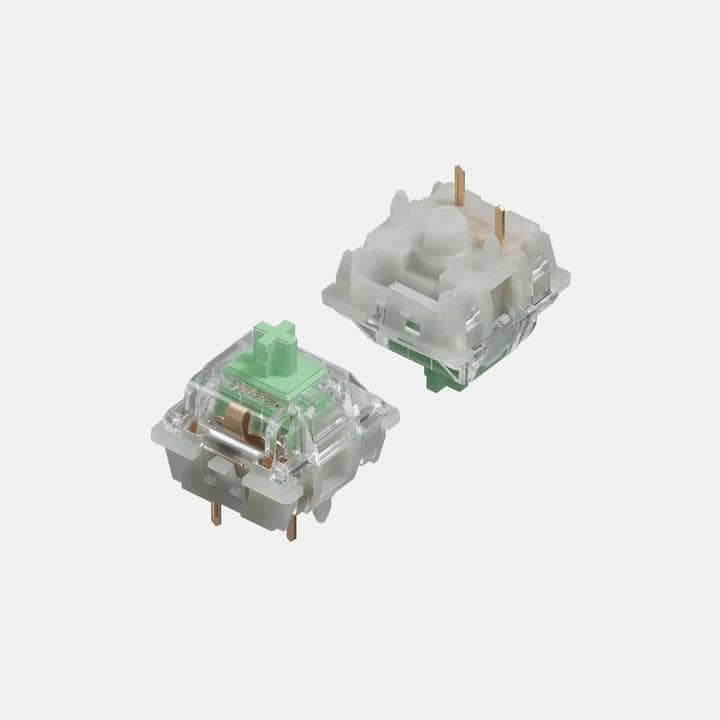 In addition to keyboards and keycaps, key switches and other optional products can also be purchased from the official NuPhy store.
Replacement key switch
G Pro Red 2.0
G Pro Brown 2.0
G Pro Blue 2.0
G Pro Yellow 2.0
G Pro White 2.0
G Pro Silver 2.0
Baby Kangaroo
The Night Breeze Switches, Rose Glacier Switches, and Gateron Baby Raccoon Switches, which can be selected as default key switches for Halo 75/Halo 65, are not available for individual purchase at this time.
Other accessories available for purchase
The "NuFollio V2" case will be very useful for carrying the Air75 and Air60.
It not only protects the key tops, but also functions as a simple stand when connected to an iPad or iPhone for typing.
The see-through palm rest is also quite an outstanding product.
Generally, "wood" or "urethane foam" is the material of choice for palm rests, but NuPhy's own palm rests are made of "resin.
In addition to its cool touch, the see-through design allows the LED lights of the keyboard to shine through, making your work environment more stylish.
Image reference: https://nuphy.com/
NuPhy Keyboard Instruction Manual (Manual)
There is currently no secondary distribution of NuPhy product instruction manuals on the official website.
Please refer to the following description of the contents of the instruction manual.
How to Buy NuPhy
NuPhy is available at different locations depending on the product you wish to purchase.
Thus, products not handled by domestic distributors must be purchased from the official website.
The site is outside Japan (shipping from Hong Kong), but can be easily purchased.
Please see below for the purchase method presented.
To purchase NuPhy products on the official website
NuPhy公式サイトで注文した場合、日本まで商品が届くまでにはどれくらいかかるの?

Approximately, it takes about 10 days to arrive.

First, it takes about 3 days from order completion to shipment, and about 7 days from shipment to Hong Kong to arrival at home, for a total of about 10 days.

The service also supports package tracking, so you can receive your package with peace of mind.

I have the impression that Sagawa or Japan Post are the domestic delivery service providers in most cases.
About NuPhy's distributors in Japan
NuPhy is distributed in Japan by Sanyo Godo Kaisha in Tokyo, Japan.
NuPhy's Technical Qualification (Technical Regulations Conformity Certification)
The Radio Law requires that any wireless communication device used in Japan must be approved by the Ministry of Internal Affairs and Communications.
With regard to NuPhy, except for the following keyboards sold and officially distributed in Japan by Sanyo Godo Kaisha (Soban), the following keyboards have not obtained the technical qualification and cannot be used for wireless connection (under Japanese domestic law).
However, there are no restrictions regarding wired connections, so when using NuPhy products, consider a USB connection as a prerequisite.
Personally, I recommend a stylish connection with a curled cord.
About NuPhy Console

NuPhy offers a key remapping tool, the NuPhy Console.
This is a tool that modifies the keymap of existing NuPhy products in hardware, a feature that will be a hit with the experts.
Note, however, that while you can change the mapping of normal character keys, you can only change keys with special functions, such as replacing the Shift key with a command key, in the form of combination shortcuts such as "00 + 00".
Another drawback is that the NuPhy Console software is only compatible with Windows, and the keymap cannot be changed on a Mac.
If you have Windows, you can change the keymap for both Mac and Win, so please try it out.
summary
This is a description of the up-and-coming keyboard brand NuPhy®︎.
Even taking into account the current depreciation of the yen, this manufacturer produces very cost-effective, high-quality keyboards, and can be highly recommended for those who prefer fashionable, pop-style keyboards.
Generally, mechanical keyboards have a strong image of being "for gamers," but that is not true.
I do not play any games, but I am one of those people who use numerous mechanical keyboards simply because they increase my typing speed and feel good to type on.
It is not widely known that mechanical keyboards can actually increase business efficiency at the same time.
Why not take this opportunity to try NuPhy's keyboards?