Gateron, the world's leading manufacturer of mechanical keyboard switches, has introduced the Baby Kangaroo Switch.
Recently, Gateron has been developing new products one after another, including the release of the pre-lubricated "G Pro V2" model.
We feel that Baby Kangaroo Switch is one of those products that will be a very critical hit.
This article will review the Baby Kangaroo Switch based on the author's actual experience with it.
If you're looking for a good-tempered tactile switch, be sure to see this one through to the end!
Representative of GreenEchoes Studio
He launched his own media as a site operator and web writer, and now plans and manages multiple corporate media. He often types heavily in his work, and in his search for greater efficiency, he became addicted to the keyboard swamp and established "GreenKeys".
Gateron Baby Kangaro Switches
メリット
タクタイル感が非常に強い
打鍵音が素晴らしい
潤滑済で動作非常にスムーズ
What is Gateron Baby Kangaroo Switches?
Baby Kangaroo Switches are normal profile mechanical keyboard switches developed by Gateron.
Compared to conventional keyswitches, it is characterized by a very strong tactile feel, with an addictive clicky feel.
Baby Kangaroo Switches Specifications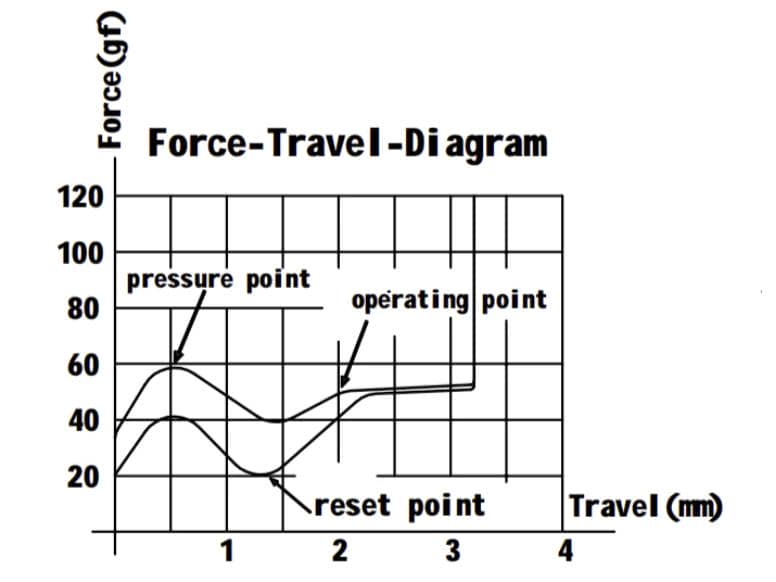 | Type | Tactile |
| --- | --- |
| Operation Force | 59±8 gf |
| Pre-Travel | 2.0±0.5 mm |
| Total Travel | 3.4 mm Max. |
| Sound Level | Medium |
| Operation Life | Up to 60M cycles |
| Suitable For | Gaming/ Office |
| Hand feeling | Crisp bump, tactile feeling ahead |
Citation: Keychron
Thus, the total travel = stroke width is 3.4 mm, which is a shorter stroke than a normal mechanical key switch, similar to the Speed Silver axis, which is famous for its high-speed typing capability.
In addition, the most significant feature of the Baby Kangaroo switch is probably the rapid "shedding" of resistance after the pressure point is reached.
After pushing in about 0.5 mm, there is a sudden weight peak touch, and from there, pushing in another 1.0 mm or so, there is a "sconce" feeling as if it is going to come off.
The difference between the peak and the outgoing push of only "0.5mm" is a whopping 20gf.
This exquisite sense of omission provides strong tactile feedback.
河村
The firm keystroke feel is addictive!
Baby Kangaroo Switch Materials
| Product Name | Gateron Baby Kangaroo Tactile Switch |
| --- | --- |
| Stem | POM, MX stem |
| Housing | PC material (Cover), PA66 material (Base) |
| Spring | 22 mm double-stage gold-plated |
| Pins. | 5-Pin switch |
| Lubrication | Lubed version |
| SMD LED support | Yes |
Citation: Keychron
These days, the switch is pre-lubricated in the factory, a fashionable practice.
Generally, when a tactile switch is lubricated, the tactile feel is lost, but it retains a firm crisp feel in smooth operation.
Comparison with other tactile switches
Let's compare Baby Kangaroo with other tactile switches.
| | Baby Kangaroo | G Pro 2.0 Brown |
| --- | --- | --- |
| Type | Tactile | Tactile |
| Operation Force | 59±8 gf | 55±15 gf |
| Pre-Travel | 2.0±0.5 mm | 2.0±0.6 mm |
| Total Travel | 3.4 mm Max. | 4.0 mm Max. |
| Sound Level | Medium | Medium |
| Operation Life | Up to 60M cycles | Up to 50M cycles |
| Suitable For | Gaming/ Office | Gaming/ Office |
As we reported earlier, the main feature of the Baby Kangaro switch is the intense tactile sensation caused by the rapidity of the pressure point and the sudden sense of weakness.
河村
Compare with the "Gateron G pro2.0 Brown" which is commonly employed.
The pressure point of the Gateron G pro2.0 Brown reaches its peak at about 1.2mm after being pushed in, and then decays by about 20gf up to 1.7mm.
Compared to the Baby Kangaro curve, the mild finish, from the rise of resistance to the breakout, does not give such a great tactile sensation.
Baby Kangaroo switch keystroke sound
The following video was taken by the author.
Keyboard tested with Gateron Baby Kangaroo attached
Keychron K6 Pro
Keychron K6
NuPhy Halo65
Keychron K6 Pro
The new sound-absorbing foam, silicone pad, and plate give it a tight sound feel without spreading out.
The newly updated aluminum frame from the K6Pro also does a nice job.
Keychron K6
Perhaps due to the absence of conventional sound-absorbing materials, the sound is somewhat reverberant.
The high pitched clacking sound is quite noisy, and may be to different tastes.
NuPhy halo65
Structurally, it is similar to the K6Pro, but has a very tight sound like the Keychron Q series.
Personally, this is my favorite sound sensation. This is amazing with this structure…!
Where to Buy Gateron Baby Kangaroo Switches
Unfortunately, at the time of writing, no distributors in Japan seem to carry the product.
Individuals can purchase the product directly from an international mail-order site.
Baby Kangaroo Online store where you can buy Baby Kangaroo switches
The Gateron Baby Kangaroo switch is extremely popular and many stores are out of stock.
If you are from NuPhy, we have partnered with our site to offer Coupon code "ryo10" you can get 10% off by entering
summary
The above is an introduction to the Garteron Baby Kangaroo switch.
I have used many tactile switches in my life, but I have never encountered a switch that felt so good to type on…!
It is a keyboard feel that makes you want to type all the time.
I hope you'll give it a try!
See also the NuPhy Halo65 keyboard with Baby Kangaroo as standard!