Topre Corporation (President: Yutaka Yamamoto, Headquarters: Nihonbashi, Chuo-ku, Tokyo) has announced the release of two models of "aluminum wristrests" as accessories for the REALFORCE brand.
Information reference: Topre releases aluminum alloy wrist rest suitable for "REALFORCE" keyboards.
The scheduled release date is Thursday, November 24, 2012, and the price is 7,920 yen (including tax) for the full-size version and 7,700 yen (including tax) for the tenkeyless size version.
This is a palm rest released by Topre, a well-known brand of high-end keyboards, and it is a product that is likely to stick with core fans.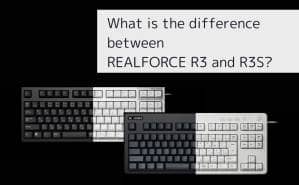 Representative of GreenEchoes Studio
He launched his own media as a site operator and web writer, and now plans and manages multiple corporate media. He often types heavily in his work, and in his search for greater efficiency, he became addicted to the keyboard swamp and established "GreenKeys".
What is a "palm rest" or "wrist rest" anyway? If you are wondering what is a "palm rest" or "wrist rest"?
I never thought I would make it out of all aluminum….
Quite a quintessence, Mr. Topre.
Only a few enthusiasts are deeply moved by this, and many do not even know how to use "this long, thin thing".
This long, thin, stick-like shape is called a "palm rest" or "wrist rest," and refers to a tool designed to "eliminate the difference in level between the keyboard and your hand.
The photo shows REALFORCE R3.
Thus, the mechanical keyboard is quite thick.
When typing, it is probably standard practice to start typing from the so-called "home position," which is to place the left index finger at "F" and the right index finger at "J." However, the secret to accuracy and speed is to fix the wrist on the desk and type around it to increase finger freedom.
Due to the structure of the human hand, if the wrist is warped = dorsiflexed, tenodesis action occurs and the fingers move in the direction of the fist on their own.
This is a physiological phenomenon caused by the pull of the super prize in the forearm, and is considered a physiological mechanism for grasping objects well.
In typing, it is easier to type if the wrist is lifted but the fingers are not bent too far because of the constant hitting of other keys, but if the wrist is bent back, this tenodesis is triggered, making it difficult to type.
Therefore, I believe that this "hand rest" was developed to avoid bending the wrist against the keyboard as much as possible.
Maybe I'm not wrong, but…
In short, the "palm rest" and "wrist rest" are auxiliary parts that play the role of placing this step-removing device in front of the mechanical keyboard to allow comfortable typing.
Features of the REALFORCE Aluminium Wrist Rest
This palm rest, which by its appearance and name cannot help but give a sense of luxury, was created as one of the accessories of the REALFORCE brand.
Normally, the overwhelming majority of palm rests are made from machined wood, but they have the disadvantage of being easily deteriorated by prolonged typing, often resulting in defects such as discoloration and bending.
I thought it was a joke, but typing 8 hours a day really does cause scraping and discoloration…this is serious.
In order to maintain comfortable typing, Topre uses an aluminum alloy that does not easily change over time, and a pillar structure called a pillar is installed inside to increase strength and stability.
As for the foot rubber, we are glad to see that two types, 1mm/3mm, are included in the package to ensure a perfect fit for keyboards other than the R3.
The parts that touch the hand are "sandblasted" and "anodized," and probably have the finest touch.
And to avoid the "cold! In addition, a wrist rest seat made of nubuck leatherette is also included to prevent the user from getting cold in the winter.
The weight is over 500g.
It is the weight of a beat.
This weight will help ensure stable typing.
goods
weight
Aluminum wrist rest
(REALFORCE)

500g
woodrest
(FILCO)

203g
woodrest
(Keychron)

233g
Acrylic wrist rest
(NuPhy)

452g
In fact, NuPhy' s acrylic wrist rests are heavier than regular wooden wrist rests and are closer in weight to Real Force.
These days it is exclusively NuPhy because it is so stable typing that heavy seems like justice.
Two sizes available
M070101
M070201
Product name
Aluminum wrist rest
For full size
Aluminum wrist rest
For tenkeyless size
Size (L x W x H)
82 × 453 × 15mm
82 × 367 × 15mm
weight
610g
500g
variety
dark silver
dark silver
material properties
Body: Aluminum alloy
Wrist rest seat: PU (nubuck leatherette)
Body: Aluminum alloy
Wrist rest seat: PU (nubuck leatherette)
contents
Main unit, rubber feet (1mm/3mm), wrist rest sheet, instruction manual
Main unit, rubber feet (1mm/3mm), wrist rest sheet, instruction manual
Price
7,920 yen (including tax)
7,700 yen (including tax)
In terms of size, the tenkeyless size is equivalent to FILCO wrist rest size M, and the full-size version is equivalent to size L.
The actual product is already great.
Actually, I am also a REALFORCE /HHKB user, and I use REALFORCE R3 andHHKB Hybrid Type-S Snow.
Those who have been captivated by the capacitance no-contact method with its knack and exceptional sense of luxury will probably have no choice but to buy the full metal palm rest that has just been released.
I mean, you, you would buy it, right?
I can see it.
Because I bought it, too.
I will have to review it, but for now let me just say "great".