Mechanical keyboards were once thought of as a product for so-called "gamers," but recently they have become quite popular for office and business use as well, as Logitech, the largest keyboard manufacturer, has been promoting them to target general users.
In this context, we would like to recommend the NuPhy Air75 keyboard.
This article will provide a thorough explanation of Air75.
I hope you've had more than enough of the pop and fashionable keyboard charm!
What is NuPhy Air75?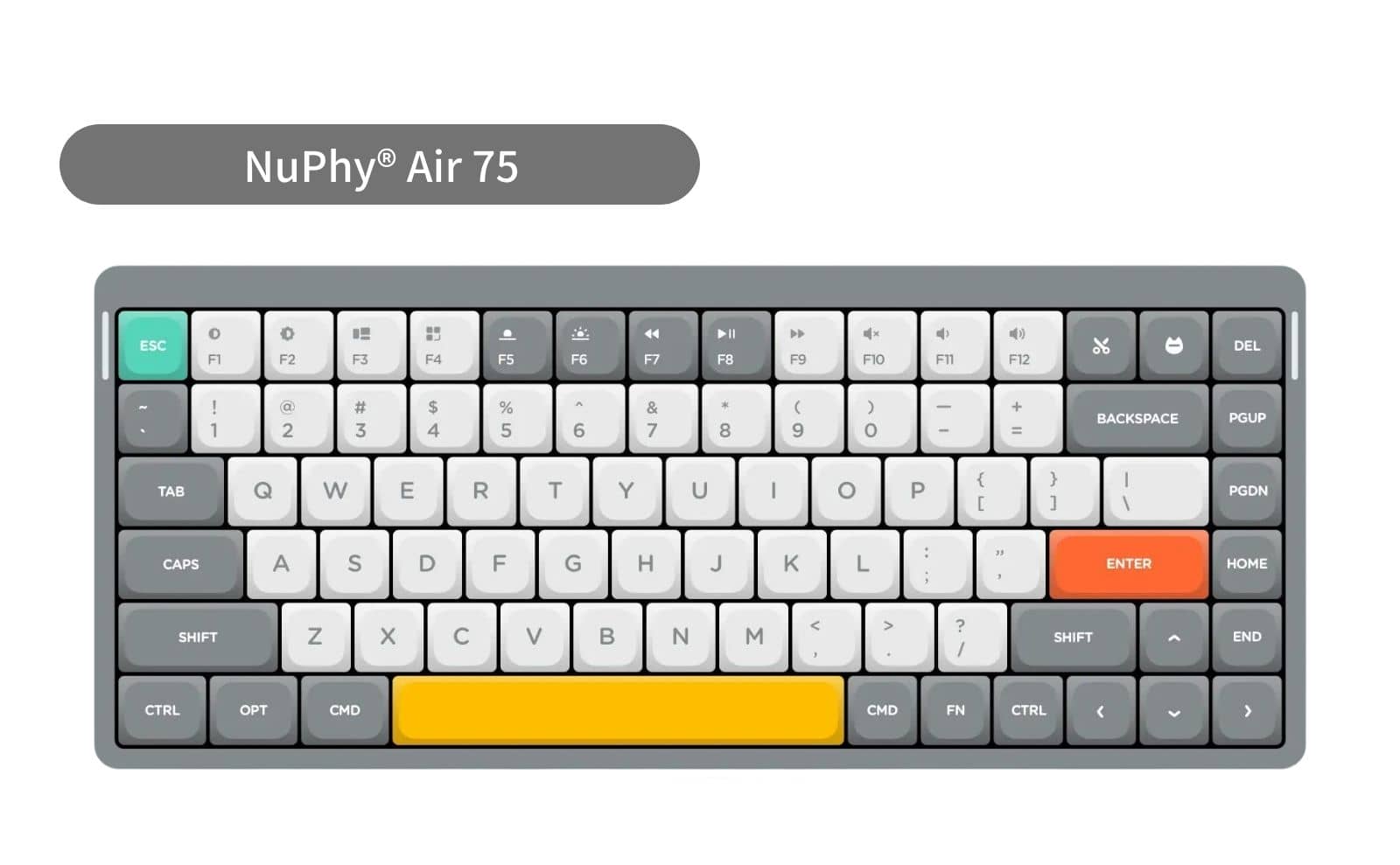 The NuPhy Air75 is a mechanical keyboard from an up-and-coming keyboard manufacturer based in Shenzhen, China.
The restaurant became well-known after it was featured on the TV program "Spending TV Nabeshima.
In Japan, "Sanyo Godo Kaisha" acts as a domestic import distributor and sells the product, making it easily available on Amazon and other retailers.
The key layout is a "US layout," and unlike typical "tall" mechanical keyboards, the "low profile switch" makes it thin and compact while maintaining a solid key feel.
Weighing only about 500g, it is very light for a mechanical keyboard and can be used on top of a laptop computer keyboard, making it suitable for portable use.
NuPhy Air75 Accessories
Let's review the contents of Air75.
The Air75 is compatible with Windows and Mac and iOS and comes with replacement keycaps.
It is possible to remove the keycap with the "key puller" tool shown on the right of the image, and it can be replaced depending on the operating system.
In addition, the mechanical key switches themselves are "hot-swappable," meaning that they can be replaced with switches that have a different feel for each keystroke.
The keyboard also comes with "rubber feet" to adjust the tilt of the keyboard, which are attached with magnets so that you will be able to type at your preferred angle.
A Bluetooth receiver is also included for those who want a more stable wireless connection.
On the back of the outer box, there is a character aiming for "moe," but there seems to be some disagreement about this….
NuPhy Air75 Features and Benefits
As soon as possible, let's also look at the features and benefits of Air75.
Cute keycap color scheme.
The first thing that will catch your eye will be the color scheme of this keycap.
To be honest, I have never encountered such a stylish looking keyboard.
The simple white and gray color scheme with three accent colors is quite stylish.
Replacement keycaps are also available, so you can change the keycaps depending on your mood.
Also, Halloween limited edition keycaps and Christmas limited edition keycaps may be available for a limited time, so check the official website if you are interested.
Very high quality aluminum frame body
The perimeter of the Air75 is an "aluminum frame".
Plastic frames are commonly used in ordinary keyboards, which do not have a "high-end" feel beyond the disadvantage of lack of durability.
In this respect, the aluminum frame of the Air75 has a look that satisfies the desire for ownership, with a sense of massiveness and luxury.
75% key layout for everyone
One of the reasons the Air75 was a "hit in Japan" is probably because of its "75% layout" with function keys.
In typing in English-speaking countries, there is no need to convert hiragana to katakana by using the "F7 key" because there is no "hiragana to katakana conversion" process itself as in Japanese.
Therefore, you will not have much trouble without function keys.
I believe that US keyboards are often 65% layout with "no function keys" for this reason, which is why they are not readily accepted by the Japanese.
In this respect, the Air75 has a solid "function key" that will allow you to switch from a laptop to a typing machine with little discomfort.
Thin and easy to carry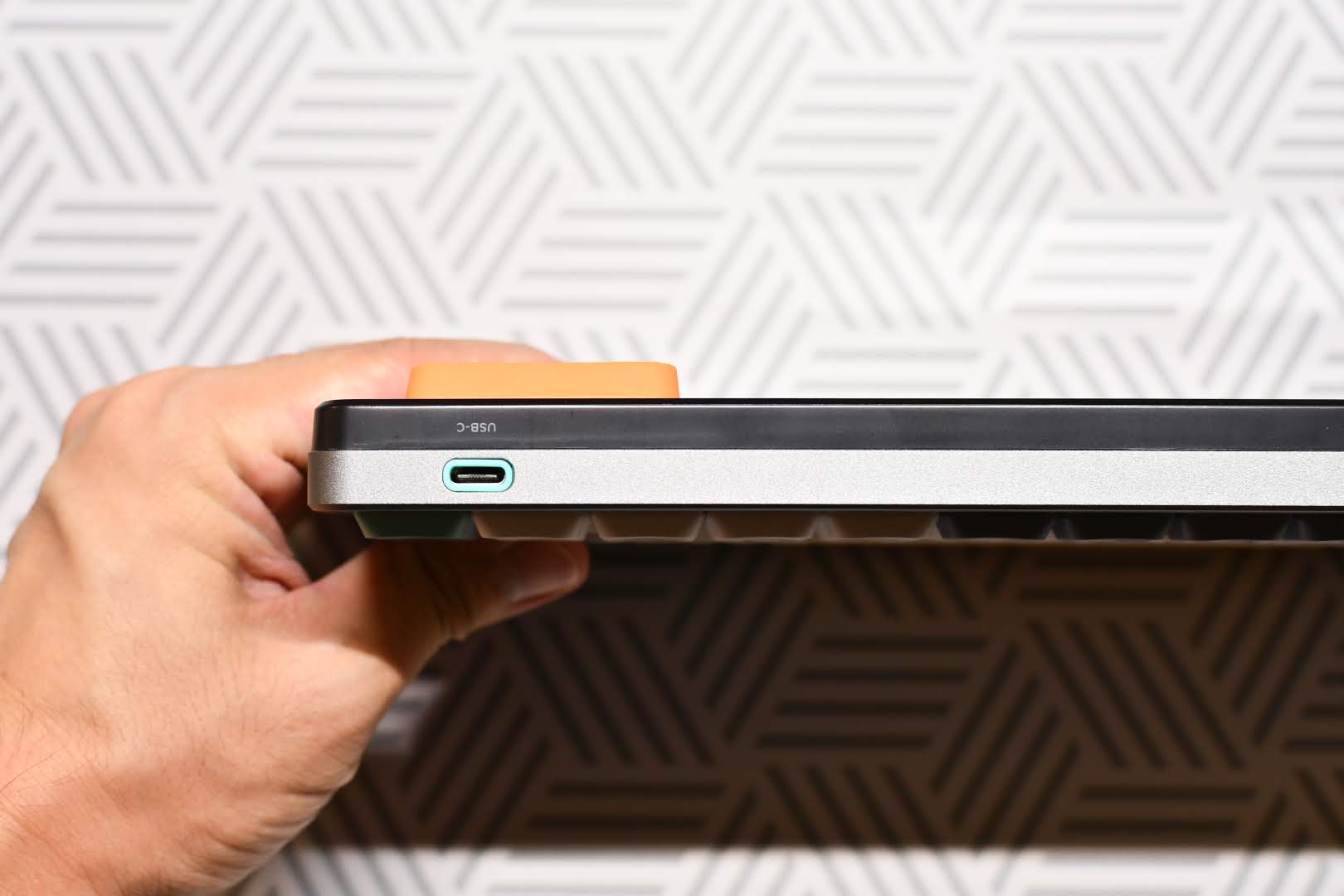 The Air75 is very thin and lightweight, thanks to its use of low profile "low profile mechanical switches".
The thinnest part is only about 16 mm, and the thickest part is only about 21 mm, so it will not be bulky in a bag.
Weighing only about 500g, it is extremely lightweight and therefore ideal for carrying around.
Includes a switch button for Mac /Windows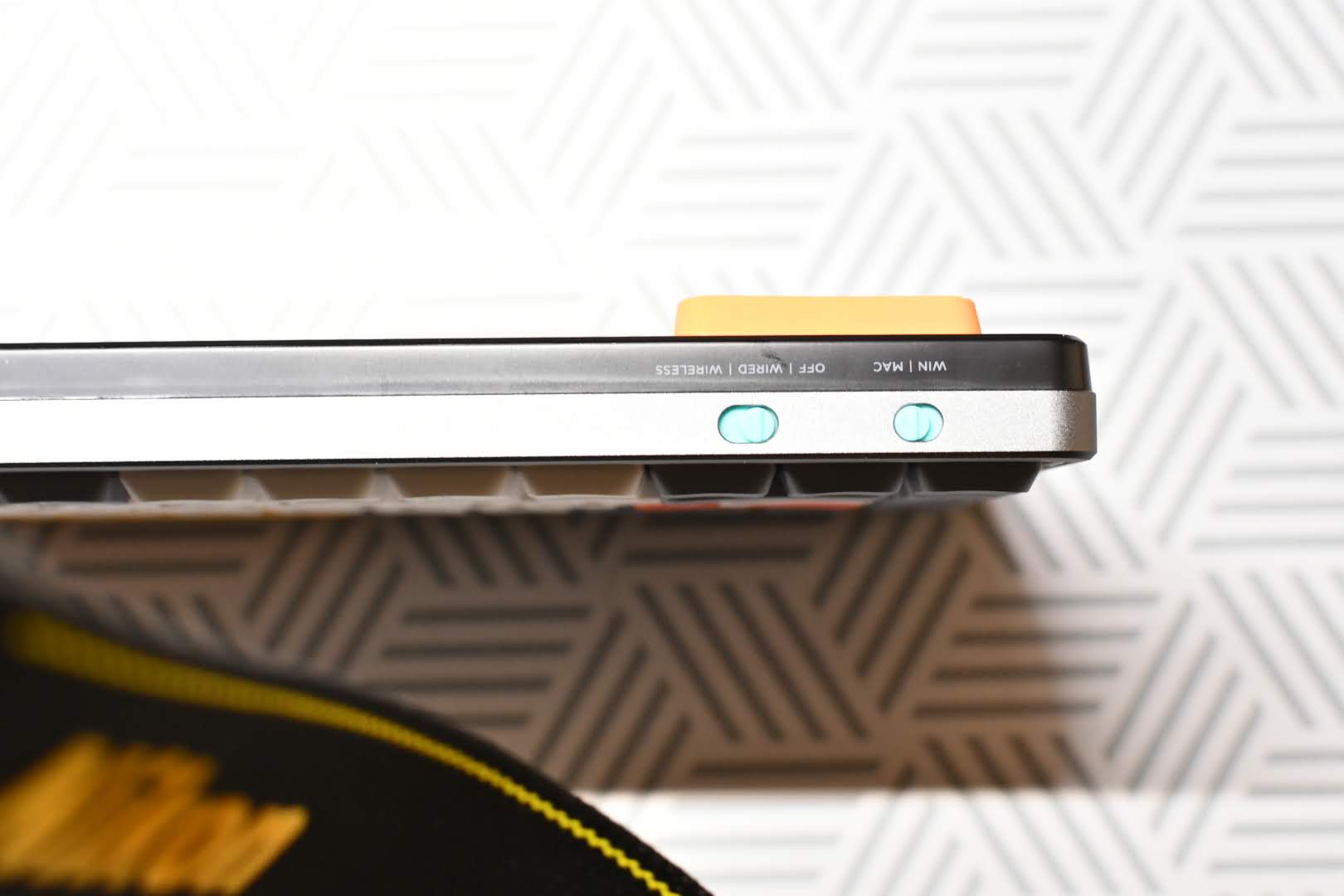 Air75 supports Mac /iOS (iPad/iPhone) as well as Windows.
The choice of mechanical keyboards available for Mac is very limited compared to Windows keyboards, so the Air75 is perfect for those looking for a stylish keyboard for use with their Mac.
However, it should be noted that although it is possible to switch between Windows⇄Mac with a single switch, the keycap must be replaced each time.
Three types of connections are possible: Bluetooth (wireless), USB wired and receiver
Air75 offers a choice of the following connection methods
The included receiver provides a more stable wireless connection, especially for those who have experienced instability with the Bluetooth function of the computer itself.
Technical compliance (only for models officially sold in Japan)
Air75 is certified for technical compliance only for products purchased through authorized sales channels in Japan.
Therefore, wireless connection is possible in Japan without any problems.
Many keyboards made overseas have not obtained technical certification, and although wireless connectivity is possible as a function, in many cases it is not possible to use it due to radio wave laws.
However, it is important to understand that the same product purchased directly from the official website (even if it is a similar product) has not obtained the technical certification and therefore cannot legally be connected wirelessly.
Can be used on a laptop computer.
The Air75 can be used in the so-called "sonji style," where it is placed on the keyboard of a laptop computer.
Normally, when using a keyboard in this way, it is customary to lay down an acrylic plate called a "keyboard bridge," but the "AirFEET™️" function allows use without a keyboard bridge.
It would be a great advantage to be able to use compatible computers not only with Macbooks, but also with Surface and other Windows computers.
*However, M1 Macbook is not supported.
21 lighting effects
Of little interest to non-gamers, the Air75 offers a choice of 21 different backlight patterns.
In addition, the lights on both sides of the keyboard will glow, making it look more stylish.
Hot-swappable
Air75 allows you to replace the key switch by yourself.
Replacement keyswitches are available on Amazon.com and other retailers, so the ability to customize the Air75 is probably one of its most attractive features.
Case (sold separately) doubles as a stand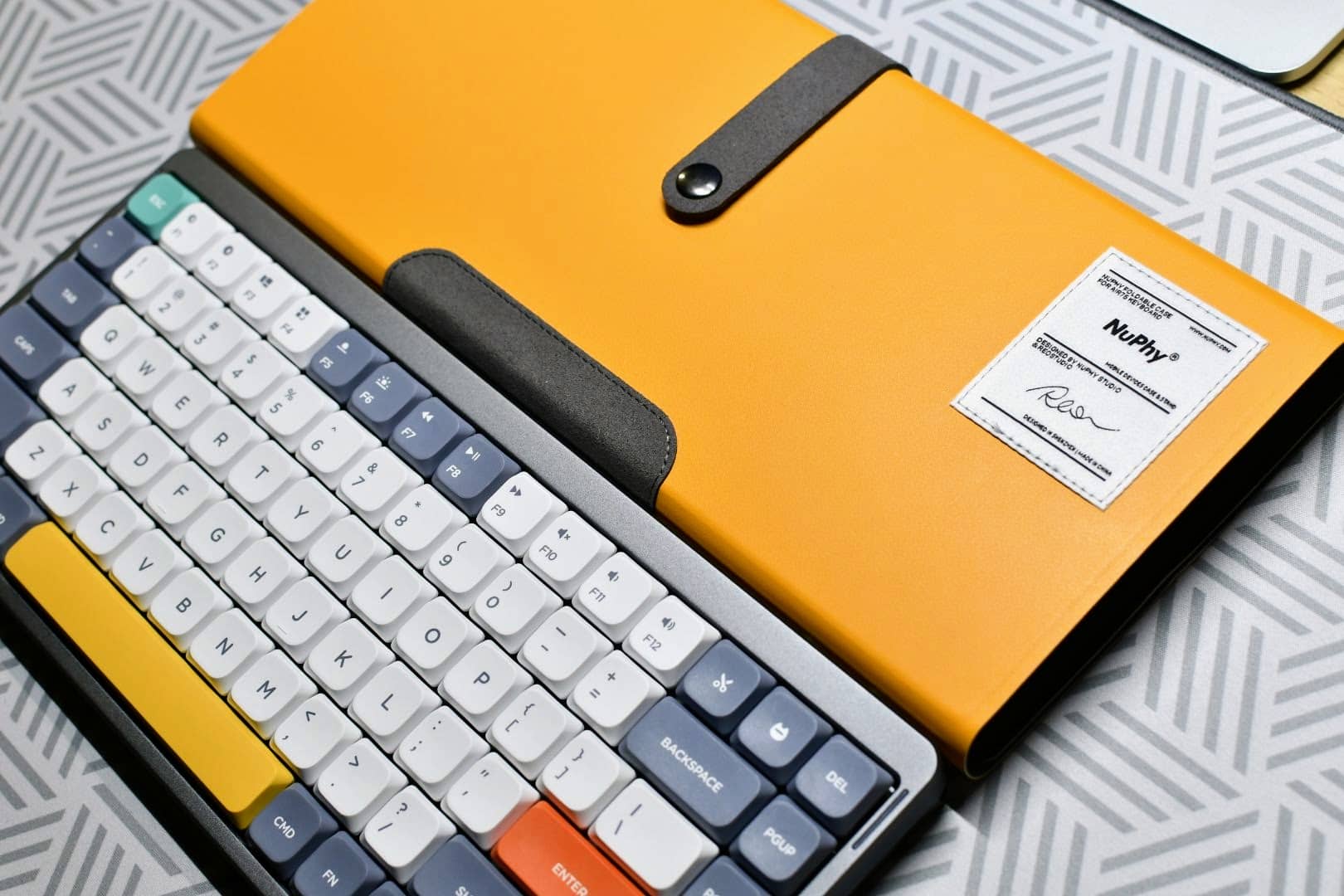 The Air75 can be carried without damaging the unit by using a case (sold separately).
In addition, this dedicated key case doubles as a simple tablet stand.
Although functionally inferior to the MagicKeybord, it is a good optional part to have if you are considering using the Air75 on your iPad.
Remapping is possible using the NuPhy Console

NuPhy offers a key remapping tool, the NuPhy Console.
This is a tool that modifies the keymap of existing NuPhy products in hardware, a feature that is a must-have for professionals.
Note, however, that while you can change the mapping of normal character keys, you can only change keys with special functions, such as replacing the Shift key with a command key, in the form of combination shortcuts such as "00 + 00".
Another drawback is that the NuPhy Console software is only compatible with Windows, and the keymap cannot be changed on a Mac.
If you have Windows, you can change the keymap for both Mac and Win, so please try it out.
Of course, Air75 is also supported.
NuPhy Air75 keystroke feel|Low-profile lightness
What you may be interested in is the "actual keystroke feel" and "keystroke sound.
The characteristics of each axis are as follows
For the actual keystroke sound, please refer to the video below and the sound I recorded.
sound sample
Personally, I still prefer the feel of the brown keys.
Unfortunate disadvantages of NuPhy Air75
Although the Air75 is very attractive, there are some "disadvantages" that you should check before purchasing.
Here are three disadvantages of Air75.
Only US sequence is available in the lineup, which changes the typing method.
The biggest disadvantage of using the Air75 is that a Japanese-language model is not available.
The basic alphabet positions are exactly the same, but the symbols are arranged differently, so some familiarity with the US keyboard is required.
In addition, the Enter key is horizontal and has a small area, unlike Japanese keyboards, so there is a possibility of pressing the "¥" button or "Shift" button by mistake when pressing it with the pinky….
In addition, there is no "alphanumeric ⇄ Japanese switch" key, so you have to learn to "press in combination" here.
Direct purchase does not allow wireless connection due to lack of technical compliance
Air75 can be purchased from "authorized domestic distributors" or "NuPhy official website (overseas mail order)", but "wireless connection" is only available for those purchased from "domestic distributors".
Although it is slightly less expensive to purchase from the official website, those who insist on a wireless connection should purchase from an authorized domestic retailer.
M1 Macbook cannot be used on top of the keyboard.
The Air75 can be used in the "Venerable Master Style" without the m-keyboard bridge, but unfortunately it is not available for Macbooks with the latest "M-series" processors.
Starting with models equipped with M series processors, the function keys have been changed to normal key size, which interferes with the rubber feet on the Air75.
The Air60 is compatible with the M series without a keyboard bridge, so please consider this option as well.
Manual for NuPhy Air75
Unfortunately, the Air75 instruction manual is not available for download on the official NuPhy website.
Please refer to the manual contents below for reference on the settings.
Comparison with Competitive Products|Low Profile Keyboards
We will compare the Air75 with its competitors, the Keychron K3 andMX MECHANICAL Mini.
Although the Air75 is inferior in terms of price and "Japanese-language" layout, you will find that it is still by far the best in terms of stylish looks.
We recommend the Air75 keyboard to those who believe that the advantage of "overwhelming stylishness" outweighs the disadvantage of not having a Japanese-language keyboard.
NuPhy Air75 Review Summary
This is my review of the NuPhy Air75.
We are sure that you too will find Air75 appealing.
If you can ignore the disadvantages of having only US keyboard layouts, this is one of the best low-profile keyboards.
If you are interested in this product, we can confidently say that it is a good buy.
Please consider purchasing one.
Frequently asked questions about NuPhy Air75
Here are answers to some frequently asked questions about NuPhy Air75.
NuPhy Air75はQMK/VIAに対応していますか?ReMap等でキーマップの変更は出来ますか?

NuPhy Air75 does not support QMK/VIA, so it is not possible to change the keymap with those software.

The same cannot be changed in ReMap.

Keymap changes for NuPhy Air75 can only be made on the NuPhy Console.

Note, however, that some keys, such as Shift, can only be changed to simultaneous presses in some cases.

NuPhy Air75は技適に対応していますか?

If the product is sold or purchased by Sanyo Godo Kaisha, an authorized distributor in Japan, it is compliant with the technical standards.

Wireless connection via Bluetooth will be available in Japan.

However, please note that Bluetooth connection in Japan is a violation of the Radio Law, since products purchased directly from the home country or parallel imported products have not yet acquired the technical qualification.