仕様一例(R3HE21を掲載)

Interface Bluetooth 5.0 & USB
Size 163mm x 465mm x 39mm
Weight 1.6Kg
Body Color Super White
Body panel color Light silver
Keycap color Super White
Keycap material PBT
Key layout Japanese
Number of keys 112
Key stroke 4.0mm
Key printing Sublimation printing
kana print
Key load 45g
Key Structure Step Sculpture
N-key rollover Full N-key rollover
Switch East preswitch (capacitance non-contact method)
Switch life: more than 50 million cycles
Cable length 1.8m (detachable)
Country of Origin Japan
Contents Keyboard / User's manual (warranty card) / 2 AA batteries / USB cable (Type-A ⇔ Type-C)
Supported Batteries
AA batteries x 2 (AA alkaline batteries, AA manganese batteries, AA nickel-hydrogen batteries)
system requirement
Bluetooth connectivity: Windows 10~, macOS 10.15~, iOS 14.0~, iPadOS 14.0~, Android 10.0~.
For Bluetooth connection, the connection device used must support Bluetooth 4.0 or later.
USB connection: Windows 10~, macOS 10.15~.

Information reference: https: //www.realforce.co.jp/products/R3HE21/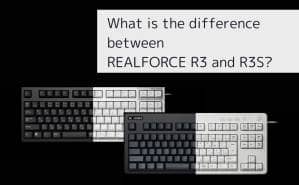 [割引]Nuphy 10% off Discount Code
ryo10
Find a keyboard layout you like.
Types of REALFORCE R3 and how to choose
Comment
REALFORCE, located in the Master Series, has "Windows-only" and "Mac-only" models.
Each OS has different colors, key layouts, key loads, etc., and each difference has a different model number.
Numeric key less keyboard also present
Windows-only model
All of the following items are common.
Capacitance non-contact method
APC
full-N key
model number
design
color
array (programming, programing)
load
customize
keystroke sound
access method
R3UA11
R3 Style
black
JIS
45
◯
silent
communicate by wire
R3UA21
R3 Style
super white
JIS
45
◯
silent
communicate by wire
R3SB11
R2 Style
black
US
45
–
silent
communicate by wire
R3SB13
R2 Style
black
US
30
–
silent
communicate by wire
R3SB31
R2 Style
black
US
45
–
standard
communicate by wire
R3SA11
(Hometown tax payment support)
R2 Style
black
JIS
45
–
silent
communicate by wire
R3SA21
(Hometown tax payment support)
R2 Style
super white
JIS
45
–
silent
communicate by wire
R3SA12
(Hometown tax payment support)
R2 Style
black
JIS
variable load
–
silent
communicate by wire
R3SA13
(Hometown tax payment support)
R2 Style
black
JIS
30
–
silent
communicate by wire
R3SA31
(Hometown tax payment support)
R2 Style
black
JIS
45
–
standard
communicate by wire
R3SA41
(Hometown tax payment support)
R2 Style
super white
JIS
45
–
standard
communicate by wire
R3HB11
R3 Style
black
US
45
◯
silent
hybrid
R3HB21
R3 Style
super white
US
45
◯
silent
hybrid
R3HB13
R3 Style
black
US
30
◯
silent
hybrid
R3HA11
(Hometown/Rental Support)
R3 Style
black
JIS
45
◯
silent
hybrid
R3HA21
(Hometown tax payment support)
R3 Style
super white
JIS
45
◯
silent
hybrid
R3HA12
(Hometown/Rental Support)
R3 Style
black
JIS
variable load
◯
silent
hybrid
R3HA22
(Hometown tax payment support)
R3 Style
super white
JIS
variable load
◯
silent
hybrid
R3HA13
(Hometown/Rental Support)
R3 Style
black
JIS
30
◯
silent
hybrid
R3HA23
(Hometown tax payment support)
R3 Style
super white
JIS
30
◯
silent
hybrid
Mac Dedicated Model
| model number | design | color | array (programming, programing) | load | customize | keystroke sound | access method |
| --- | --- | --- | --- | --- | --- | --- | --- |
| R3HE11 | R3 Style | Black + Dark Silver | JIS | 45 | ◯ | silent | hybrid |
| R3HE21 | R3 Style | Super White + Light Silver | JIS | 45 | ◯ | silent | hybrid |
| R3HF11 | R3 Style | Black + Dark Silver | US | 45 | ◯ | silent | hybrid |
| R3HF21 | R3 Style | Super White + Light Silver | US | 45 | ◯ | silent | hybrid |
Selectable axis types
REALFORCE capacitive non-contact switch
R3
R2
pressing pressure
45g (only 45g for R3HG/HH/HE/HF)
30g
variable load
45g
30g
variable load
Movement to operation
Equipped with APC function
0.8mm
1.5mm
2.2mm
3.0mm
Models with APC function
1.5mm
2.2mm
3.0mm
keystroke
4.0mm
4.0mm
reaction
linear
linear
sound
Calm (non-silent model)
Extremely quiet (silent model)
*R3Mac is a quiet model only.
Calm (non-silent model)
Extremely quiet (silent model)
REALFORCE|Keystroke Sound Samples