summary
Release date: Available for pre-order
Reservations start date: January 16, 2023
Expected end date of pre-order acceptance: February 16, 2023
Pre-order shipment schedule: Starts on February 23, 2023 (for pre-orders)
Features and Comments
96% layout size keyboard of Air series (thin keyboard)
The keyswitches installed are the new Gateron Low-profile 2.0 and Gateron Low-profile 1.0
Gateron Low-profile 2.0 " features a key stroke of approximately 3.2 mm, similar to normal profile key switches
Iconic White" joins the existing "Lunar Gray" color lineup.
Tilt leg is changed to a built-in type
COAST Dawn" is now available as an optional keycap
Poron®︎ ( high-performance urethane foam) is used as a sound-absorbing material Ixpe ( rubber foam) is newly adopted as a sheet to be placed over the plate and PCB, which is expected to produce more quietness.
New keycaps with Double Shot nSA profile
Three thin par rests are available as options.
Information reference: NuPhy Air96
Click here for other Air series
Happy 10% OFF Coupon : [ ryo10 ].
---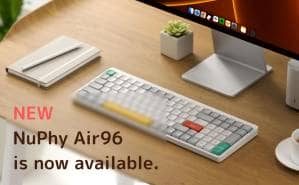 Air96のスペック詳細

Package Contents

1 x air96 wireless mechanical keyboard
1 x usb-c to usb-a cable (1.5m)
1 x 2.4g receiver
1 x keycap/switch puller
7 x extra keycaps
6 x extra switches
1 x quick guide/poster
1 x stickers

Specification Details

switch type: low-profile gateron mechanical 1.0 ( Red / Blue / Brown ) or 2.0 ( Wisteria / Aloe Daisy )
layout: ansi 96
number of keys: 100 keys
hot-swappable support: yes
n-key rollover support: yes
backlight & sidelight: rgb-led
backlight modes: 10
sidelight modes: 4
mode: 2.4G wireless, bluetooth 5.0 or wired
battery capacity: 4000mAh
working time (all lights on): up to 60 hours (lab test result)
working time (all lights off): up to 240 hours (lab test result)
connection type: usb type-c
compatible system: macos/windows/android/ios
angle: 3.5º/ 6.5º/ 8.5º
Operating environment: -10 to 50°C

material properties

frame: aluminum
bottom case: abs
keycap: double-shot pbt

Size and Weight

373.4 mm x 132.6 mm x 17.5 mm (14.7 inch x 5.2 inch x 0.69 inch)
663 g (1.46 pound)

Information reference: NuPhy Air96
[割引]Nuphy 10% off Discount Code
ryo10
Find a keyboard layout you like.
Selectable axis types
Gateron Low-profile Switches 2.0 (NuPhy)
| Switch | Wisteria | Daisy. | Aloe |
| --- | --- | --- | --- |
| Picture. | | | |
| Feel | Tactile | Linear | Linear |
| Color | Light Blue | Light Orange | Light Green |
| Lubed. | Pre-Lubed | Pre-Lubed | Pre-Lubed |
| Pressure | 55gf | 48gf | 37gf |
| Operating force | 55±15gf | 48±15gf | 37±15gf |
| End force | 65±5gf | 55±5gf | 50±5gf |
| Spring | 16.5mm | 16.5mm | 16.5mm |
| Pre-Travel | 1.7±0.4mm | 1.7±0.4mm | 1.7±0.4mm |
| Total Travel | 3.2mm | 3.2mm | 3.2mm |
Gateron Low-profile Switches 1.0
| Switch | Blue | Red | Brown |
| --- | --- | --- | --- |
| Feel | Clicky. | Linear | Tactile |
| Color | Blue | Red | Brown |
| Lubed. | None | None | None |
| Pressure | 50±15g | 45±15g | 55±15g |
| Spring | unknown | unknown | unknown |
| Total Travel | 2.5±0.5mm | 2.5±0.5mm | 2.5±0.5mm |
sound sample