Comment
Official sales in Japan from November 2022!
Japanese-language models will also be available from December 16, 2022.
Uses Keychron's original optical switches
Many keyswitches to choose from
Recommendation: mint axis/banana axis
65% layout makes it easy to carry
We also recommend using it on top of a keyboard.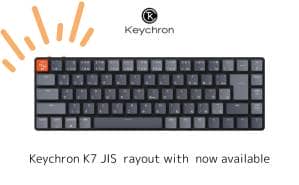 Types of Keychron and how to choose ▷▷▷
仕様詳細

trade (brand) name

Keychron K7

Total number of keys

68 keys (US)

multimedia key

12 keys

Main body material

ABS+Aluminum frame

Keycap Material

ABS

backlight

18 types, 4 levels of adjustable RGB or White LED

Supported Systems

Windows/Android/Mac/iOS

battery

1550mAh rechargeable lithium polymer

Bluetooth operating time

BT Working Time (White Backlight Version): Up to 34 hours (Lowest brightness) BT Working Time (RGB Version): Up to 34 hours (Lowest brightness)

connection

Bluetooth and USB TYPE-C

Bluetooth version

5.1

Size and Weight

Dimension: 307 x 97.5mm Height incl. keycap (rear) 22mm Height incl. keycap (front) 18mm Weight: About 348.7g / 0.77lbs Operating Environment: -10 to 50°C

contents

1 x Keyboard 1 x USB-A to USB Type-C Cable 1 x Keycap Puller 1 x Switch Puller (For Hot-swappable version only) 1 x User Manual

Information reference: https: //www.keychron.com/products/keychron-k7-ultra-slim-wireless-mechanical-keyboard
Also recommended
Recommended for Mac users
Recommended for Windows users
View GINKGO65 on the official website ▷▷▷
Find a keyboard layout you like.
Selectable axis types
Gateron Low-profile Switches 1.0
| Switch | Blue | Red | Brown |
| --- | --- | --- | --- |
| Feel | Clicky. | Linear | Tactile |
| Color | Blue | Red | Brown |
| Lubed. | None | None | None |
| Pressure | 50±15g | 45±15g | 55±15g |
| Spring | unknown | unknown | unknown |
| Total Travel | 2.5±0.5mm | 2.5±0.5mm | 2.5±0.5mm |
sound sample
Keychron Lowprofile Optical Swithces
Red Switches

Blue Switches

Brown Switches

White Switches

Yellow Switches

Green Switches

key load
40±10gf
48±10gf
57±10gf
30±10gf
57±10gf
67±10gf
Movement to operation
1.1±0.3mm
1.1±0.3mm
1.1±0.3mm
1.1±0.3mm
1.1±0.3mm
1.1±0.3mm
Overall movement
2.5±0.3mm
2.5±0.3mm
2.5±0.3mm
2.5±0.3mm
2.5±0.3mm
2.5±0.3mm
reaction
linear
clicky
tactile
linear
early bump
tactile
early bump
tactile
sound
quiet
clicky
gentle
quiet
gentle
gentle
sound sample